Royal Botania Review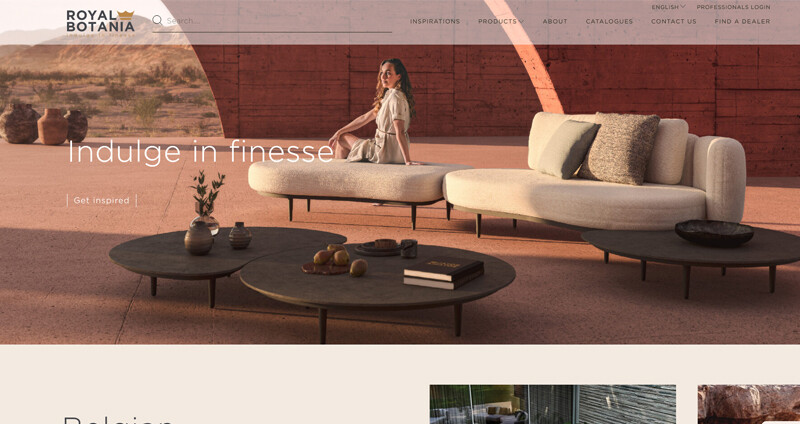 Introduction
We will dig into the realm of Royal Botania in this thorough analysis, a renowned company that is the pinnacle of opulent outdoor furniture and lighting options. We will examine the background of the company, the variety of goods it sells, its website, as well as the owners and location of the head office. Royal Botania has become a well-known brand in the sector because to its dedication to superb craftsmanship and avant-garde designs.
Overview of the firm
Royal Botania is a Belgian firm that specialises in making upscale outdoor furniture and lighting. The company, which was established in 1992 by Kris Van Puyvelde and Frank Boschman, has won recognition worldwide for its elegant designs and top-notch materials. Since its inception, Royal Botania has been committed to developing outdoor areas that seamlessly combine comfort and elegance while blending in with nature.
Product Selection
Royal Botania offers a wide selection of outdoor furniture and lighting options that can turn any outside area into an opulent retreat. They offer the following products:
Outdoor Furniture
Royal Botania offers a wide range of furniture items that have been painstakingly made utilising the best materials, from stylish loungers and cosy sofas to exquisite dining sets. To assure longevity and attractiveness, the firm uses a combination of teak, stainless steel, aluminium, and weather-resistant fabrics.
Lighting
The Royal Botania lighting series beautifully blends beauty and utility. Their outdoor lighting fixtures, such as wall-mounted lights, floor lamps, and pendants, are made to resist a variety of weather conditions while evoking a compelling atmosphere. The company uses energy-saving technology, such LEDs, to produce beautiful lights with less of an environmental impact.
The Royal Botania website features a visually attractive and intuitive user interface that highlights the brand's sophistication and attention to detail. The website has a modern, user-friendly design that makes browsing easy. Visitors can browse through various product categories with ease, read in-depth product descriptions, look at high-resolution photographs, and get helpful details about the brand's guiding principles and design inspirations. The Royal Botania website has been operational since 1996, providing clients with a crucial platform to research and interact with the brand's offers. The website has developed throughout time to adapt shifting web design trends, ensuring that users have an interesting and educational experience.
Ownership and Head Office
Kris Van Puyvelde and Frank Boschman co-founded Royal Botania, a privately owned business. The company's CEO, Kris Van Puyvelde, is renowned for his creative approach to designing outdoor furniture. The co-founder and designer Frank Boschman lends his knowledge to developing outstanding lighting solutions. Royal Botania's headquarters are in Antwerp, Belgium. The brand benefits strategically from its central location, which enables effective distribution throughout Europe and the rest of the world. Royal Botania's Belgian roots help to build the company's reputation for fine craftsmanship and classic designs.
As a result of its amazing selection of furniture and lighting options, Royal Botania has revolutionised outdoor living spaces. The business has become well-known throughout the world for its opulent and sophisticated creations thanks to its dedication to invention, workmanship, and design. Customers can browse the brand's wide choice of products and learn about their philosophy through the user-friendly website. Since 1996, Royal Botania has operated its website, demonstrating its commitment to quality and client happiness and serving as a witness to its success. The brand's expansion has been driven by its owners, Kris Van Puyvelde and Frank Boschman, who have infused it with their love of design and extraordinary outdoor experiences.
If you want to create a stunning retreat in your garden, patio, or poolside, Royal Botania has an excellent assortment that expertly combines comfort and style. For discerning clients who value the finer things in life, Royal Botania continues to be a sought-after brand because to their dedication to excellence and classic designs.