Bert Frank Review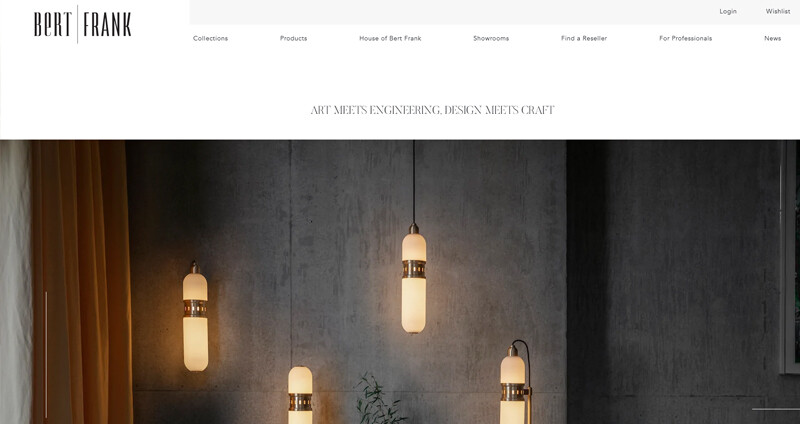 Introduction
British lighting company BERT FRANK is recognised for its flawless craftsmanship and commitment to producing lighting fixtures that personify timeless elegance. BERT FRANK, which is dedicated to fusing beautiful design with practicality, provides a wide variety of lighting options that expertly combine classic and modern elements. We will delve into the magnificent collections, examine the brand's rich history, and highlight the unique qualities that distinguish BERT FRANK apart from other lighting producers in this in-depth assessment.
Heritage and craftsmanship
Robbie Llewellyn and Adam Yeats, the brand's founders, set out to rethink the idea of luxury lighting in 2013, which marked the beginning of BERT FRANK's journey. They created a brand that is steeped in traditional craftsmanship, rigorous attention to detail, and an uncompromising commitment to quality, inspired by their backgrounds in product design and engineering. BERT FRANK's uncompromising dedication to maintaining traditional manufacturing methods is one of its defining characteristics. Each lighting fixture is painstakingly created in their London workshop by expert craftspeople who mix traditional techniques with cutting-edge technology. Lighting fixtures created via the blend of traditional workmanship and cutting-edge design are not only visually stunning but also long-lasting.
Beautiful Collections
BERT FRANK's portfolio is filled with exquisite collections, each of which has a distinct personality and design aesthetic. BERT FRANK offers a wide selection of lighting alternatives to suit various tastes and interior designs, whether you're looking for a minimalist pendant light, a striking wall sconce, or an ornate chandelier. The "Revolve" series, with its clean lines and geometric shapes, epitomises contemporary simplicity. These fixtures, which have been carefully and precisely made, demonstrate the brand's capacity to blend minimum design with greatest impact. The "Shear" line, in contrast, is influenced by the Art Deco era and features opulent materials, strong curves, and geometric designs. These fixtures radiate a traditional beauty that seamlessly blends into both modern and vintage surroundings.
Another feature that distinguishes the brand from others is BERT FRANK's dedication to customisation. Many of their lighting fixtures come in different finishes, allowing consumers to customise the design to suit their own tastes. Each piece can be easily incorporated into any home design plan thanks to the variety of possibilities, which range from polished brass and brushed nickel to matte black and old bronze.
Unmatched Design and Functionality
BERT FRANK's success stems from their ability to successfully combine artistic expression and use. Each lighting fixture is specifically created to function as a fascinating focal point in addition to lighting up places. The elaborate architecture, carefully chosen materials, and carefully chosen lighting effects all demonstrate the brand's attention to detail. BERT FRANK makes sure that their lighting fixtures are not only energy-efficient but also capable of creating the ideal mood by using cutting-edge LED technology. There are dimmable alternatives available, allowing users to easily change the lighting intensity to produce different moods and environments. BERT FRANK lighting is the best choice for both residential and commercial environments thanks to its adaptability, which improves aesthetic appeal while maximising functionality.
In summary, BERT FRANK is a company that expertly combines traditional elegance with cutting-edge style. Their drive to maintaining traditional workmanship, meticulous attention to detail, and focus on utility have produced a variety of lighting fixtures that are not only eye-catching but also long-lasting. BERT FRANK has established itself as a top brand in the world of luxury lighting thanks to their extensive collections, adaptable alternatives, and cutting-edge lighting technology. Whether you're a fan of interior design, an architect, or a discriminating homeowner looking for lighting fixtures that combine creativity and usability, BERT FRANK has a compelling selection of alternatives to meet your requirements. The timeless beauty that can be attained via fine craftsmanship is demonstrated by BERT FRANK lighting, which is known for its beautifully handcrafted designs and dedication to personalization.
Review of exquisite craftsmanship and timeless elegance in BERT FRANK lighting
Learn about the extraordinary world of BERT FRANK lighting. BERT FRANK provides a selection of gorgeous lighting fixtures that masterfully combine creativity and utility. The company is known for its unmatched craftsmanship and commitment to timeless elegance. To learn about the brand's fascinating history, see their magnificent collections, and take in the beauty of their painstakingly created pieces, read our in-depth review.