Yamaha Review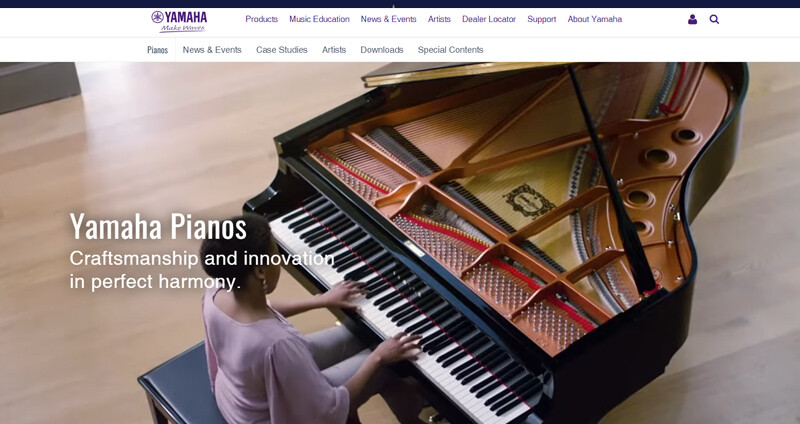 Introduction
For more than a century, Yamaha, a recognised brand in the musical instrument industry, has been a dependable option for both experts and amateurs. Yamaha has continuously created pianos that offer great tone, precision, and durability because of its strong commitment to craftsmanship, innovation, and quality. The range of pianos offered by Yamaha, including grand, upright, and digital versions, will be thoroughly examined in this in-depth study so that you can see why they are among the best instruments on the market. pianos, grand Piano players from all around the world highly prize the grand pianos that Yamaha has to offer. These instruments, which were made with extreme care, capture the spirit of musical craftsmanship. The Yamaha CFX Concert Grand Piano, the company's flagship model, is evidence of Yamaha's commitment to quality. Thanks to its high-quality components, including carefully chosen spruce for the soundboard, it has a deep and resonant tone. The CFX Concert Grand Piano offers a playing experience that is unmatched, making it a favourite of recording studios, concert halls, and professional pianists. Yamaha offers the GC series, which strikes a compromise between performance and space efficiency, for those looking for a more compact grand piano. These instruments have outstanding tone and projection in a smaller compact because they are made with the same attention and accuracy as their larger counterparts. In this lineup, the Yamaha GB1K Grand Piano stands out as a model that provides an exceptional degree of artistic expression and performance ideal for both private and formal settings.
Vertical Pianos
The upright pianos made by Yamaha are a beautiful example of how classical skill and contemporary technology can coexist. Both aspiring pianists and seasoned artists will enjoy playing on these instruments because they are built to produce amazing tone and responsiveness. The flagship upright piano line from Yamaha, the U series, is famous for its superb touch and tone. Particularly the Yamaha U1 and U3 models have earned a reputation for dependability and excellent performance, making them a well-liked option for homes, studios, and educational facilities. The use of cutting-edge technology is one of the distinguishing characteristics of Yamaha upright pianos. Select models of the Disklavier Enspire system, which combines cutting-edge electronics with the classic acoustic piano, allow for the incredibly accurate and nuanced playback of performances. Due to this, pianists can enjoy playing along with well-known musicians or have access to a huge library of previously recorded performances.
Digital pianos from Yamaha blend the practicality of contemporary technology with the true tone and feel of acoustic instruments. These instruments are made to be versatile and offer a variety of features and functionalities to both beginners and pros. Particularly known for its expressiveness, realism in touch, and wide variety of instrument sounds is the Clavinova family. Yamaha digital pianos offer a realistic playing experience that closely approaches that of an acoustic piano with to features like weighted keys, graded hammer action, and cutting-edge sampling technology. As a result of the smooth integration of USB connectivity and mobile apps with a variety of music software and educational resources, the process of learning and creativity has been improved.
Conclusion
Yamaha's broad selection of pianos reflects their dedication to creativity, craftsmanship, and artistic expression. Yamaha pianos are used by professionals, teachers, and music lovers all throughout the world, from opulent concert halls to quiet nooks of homes. You can rely on Yamaha's attention to detail and constant pursuit of perfection to create an instrument that exceeds your expectations whether you choose a grand piano, an upright piano, or a digital piano. Yamaha continues to raise the bar for the piano business despite having a long history dating back more than a century. Yamaha pianos provide a unique musical experience by fusing heritage with cutting-edge technology. Yamaha pianos are a tribute to the brand's dedication to craftsmanship, innovation, and the transformative power of music, whether you're a professional pianist searching for an instrument that can captivate audiences or an aspiring musician looking for an instrument to cultivate your talent.