Bechstein Review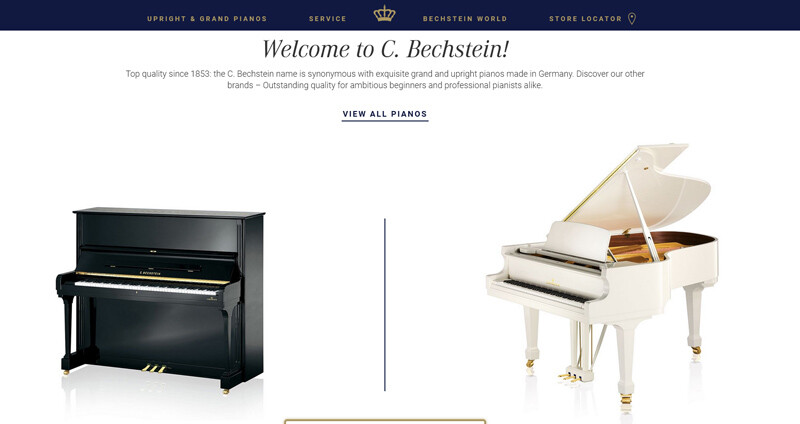 Introduction
One brand stands out for its unwavering dedication to workmanship, creativity, and classic elegance in the world of piano manufacturing: Bechstein. Bechstein has established itself as one of the most prestigious and recognised piano brands in the world, with a rich history that dates back to 1853. This in-depth analysis examines Bechstein's extraordinary product line and the skill and commitment that go into creating these remarkable instruments.
Tradition and craftsmanship
Every Bechstein piano is built with an unrelenting commitment to quality. Each instrument is painstakingly made by highly talented craftspeople whose abilities have been refined over many generations. The brand's pianos are made with an unmatched level of attention to detail, guaranteeing that every element—from the selection of materials to the last tuning—meets the highest standards of quality. Bechstein pianos are renowned for their remarkable dynamics, touch sensitivity, and tonal qualities. The best woods, including spruce and beech, are painstakingly chosen by the brand's skilled craftsmen to build the soundboard, rim, and other essential parts. These premium components provide rich, resonant tones that fascinate both the musician and the audience when paired with painstaking building methods.
An Innovation Legacy
Bechstein values innovation and contemporary improvements in piano production along with its historical legacy. The company's dedication to advancing piano technology has produced ground-breaking advancements in durability, touch, and sound. Their use of the "Bechstein acoustic assembly" in their grand pianos is one famous instance. This ground-breaking method enhances resonance and projection by maximising the contact between the strings, soundboard, and piano body. The end product is a piece of equipment with an amazing diversity of tones and great clarity. Bechstein has also embraced technology by incorporating cutting-edge digital capabilities onto their instruments. The use of Silent Piano technology enables musicians to perform or practise in silence while wearing headphones without degrading the acoustic environment. Bechstein pianos continue to enthral performers of all ages thanks to this seamless mix of classic craftsmanship and contemporary advancements.
A Wide Variety of Bechstein Models for Every Pianist
Each model of piano available from Bechstein is tailored to the individual preferences and playing techniques of performers. Bechstein has the ideal piano for everyone, including professionals, ardent amateurs, and music establishments. The C. Bechstein concert grand and other signature Bechstein grand pianos represent the peak of piano craftsmanship. These finely constructed instruments provide an unmatched variety of tonal colours and dramatic capabilities. These grand pianos' sensitive, precise touch enables performers to convey their musicality with the fullest nuance. Bechstein manufactures upright pianos that exhibit the same exquisite craftsmanship as their grand pianos for those looking for a more portable but still outstanding piano experience. These instruments are favoured by both professionals and serious hobbyists because to their exceptional tone quality and responsiveness. The W.Hoffmann brand, which Bechstein also sells, combines German engineering with more affordable price ranges. These pianos are expertly designed and built to provide players of all skill levels with an amazing musical experience.
Background and Endorsements
Bechstein has established a reputation for brilliance throughout the years, winning the respect and awe of eminent pianists, composers, and musical organisations. Alfred Brendel, Vladimir Horowitz, and Artur Schnabel, among others, have all preferred Bechstein pianos for their excellent musicianship and tonal qualities. The brand's dedication to quality has also been recognised with a number of honours and awards. Bechstein's position as a market leader has been further cemented by acknowledgment for their contribution to the piano industry. In summary, Bechstein is a name that personifies excellence in piano production. Bechstein pianos have been captivating players for more than a century and a half because to their superb craftsmanship, musical tonality, and cutting-edge features. Whether you're a concert pianist, a budding musician, or a devoted enthusiast, Bechstein has a musical instrument that will enrich and excite you. Discover the unmatched beauty and creativity of Bechstein pianos as you experience their legacy.