Theodore Alexander Review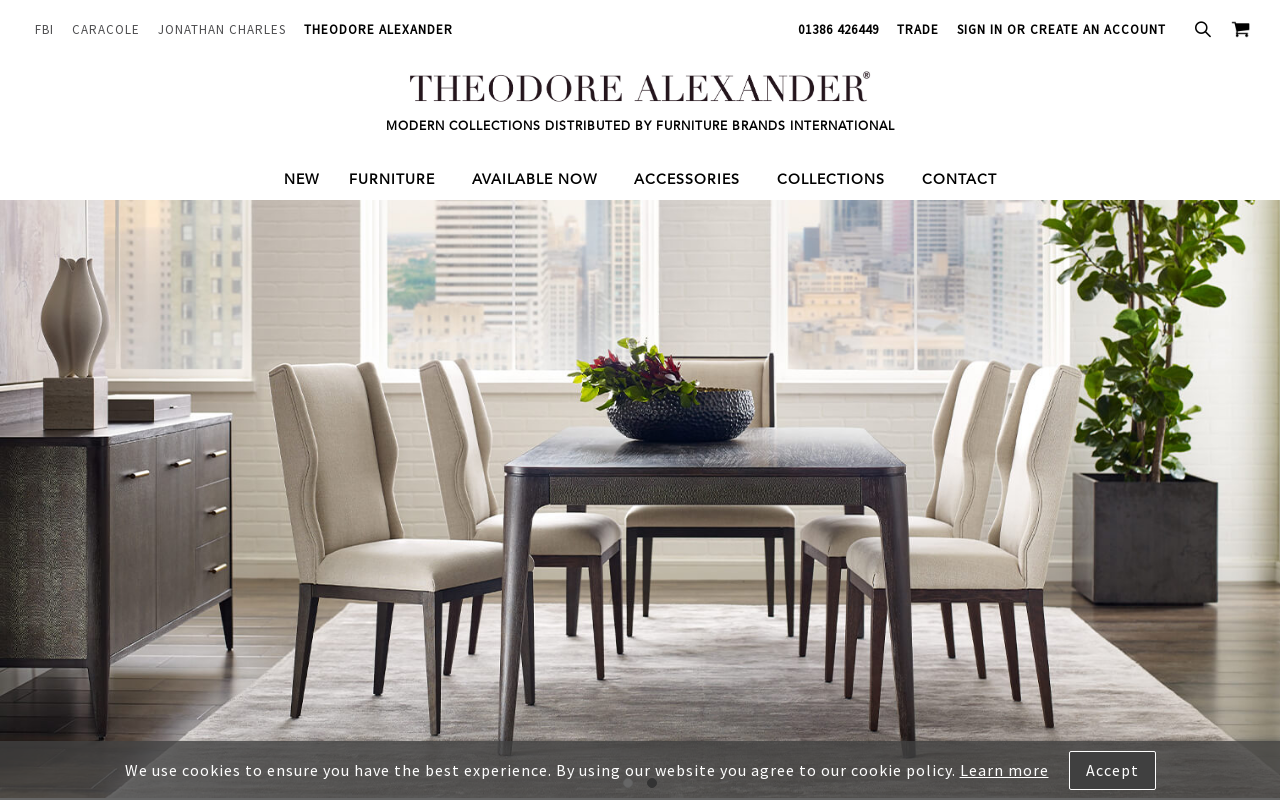 Exquisite furniture and home décor from Theodore Alexander UK
Theodore Alexander UK is a leader in the field of high-end furniture and home furnishings, standing out for its classic style, superb craftsmanship, and meticulous attention to every last detail. This well-known company, which has a long history spanning decades, has made a name for itself as a leading destination for discerning homeowners and interior design aficionados looking to create chic, welcoming homes.
Delivering furniture and décor items that combine design and substance is at the core of Theodore Alexander UK's offerings. They have a wide variety of items in their collection, including exquisite upholstery, artisan case goods, lighting fixtures, mirrors, and accessories. Each piece is painstakingly made, fusing ancient methods with modern design sensibilities to produce genuinely one-of-a-kind and breathtaking works of art.
The commitment of Theodore Alexander UK to upholding the craft of crafting is one of its defining traits. Each piece of furniture and décor is made by trained artisans who have spent years honing their craft, ensuring that each finished product is a work of art. The thorough attention to every detail, from material selection to joinery perfection and faultless finishing, demonstrates the brand's dedication to excellence.
The variety of styles and designs available when perusing the Theodore Alexander UK collection is irresistible. This brand offers something to fit every visual choice, whether your taste is more traditional, modern, or a combination of both. Theodore Alexander UK offers a wide range of design aesthetics, from extravagant and sumptuous items that are influenced by European classics to sleek and minimalist pieces with clear lines.
Theodore Alexander UK's upholstery line is a tribute to comfort and elegance. Sofas, chairs, and ottomans are covered in tastefully chosen fabrics and luxurious leathers, radiating elegance and beckoning relaxation. The outstanding level of comfort and durability attained by the brand demonstrates its competence in upholstery, ensuring that each item is as delightful to use as it is to look at.
Theodore Alexander UK offers a variety of beautiful solutions for individuals looking for statement-making case goods. Each piece, from deftly carved sideboards and cabinets to painstakingly built dining tables and consoles, is intended to be the main point of any room. Rich woods, pricey veneers, and painstakingly applied finishes that enhance each product's beauty and personality demonstrate the brand's commitment to employing the best materials.
Theodore Alexander UK offers a wide selection of lighting fixtures, mirrors, and accessories in addition to furniture to give any room the ideal finishing touches. These accents improve a room's ambience in a variety of ways, from stunning chandeliers that fill the space with a warm glow to beautifully framed mirrors that reflect light and give the illusion of depth.
Theodore Alexander UK takes pride in offering a remarkable client experience in addition to their great product quality. The brand's skilled and caring staff is dedicated to helping customers choose the ideal pieces to realise their vision. Theodore Alexander UK offers individualised care and knowledge to ensure your pleasure, whether you're a homeowner furnishing your dream house or a professional interior designer working on a significant project.
Finally, Theodore Alexander UK is a genuine connoisseur's delight, providing a dazzling selection of furniture and home décor that perfectly combines traditional elegance and modern flair. Every element of the brand's goods oozes luxury and sophistication, from the expert craftsmanship to the wide variety of styles. By selecting Theodore Alexander UK, you are investing in artistic masterpieces that will turn your living spaces into havens of beauty and elegance rather than merely buying furniture and home accents.