Dom Edizioni Review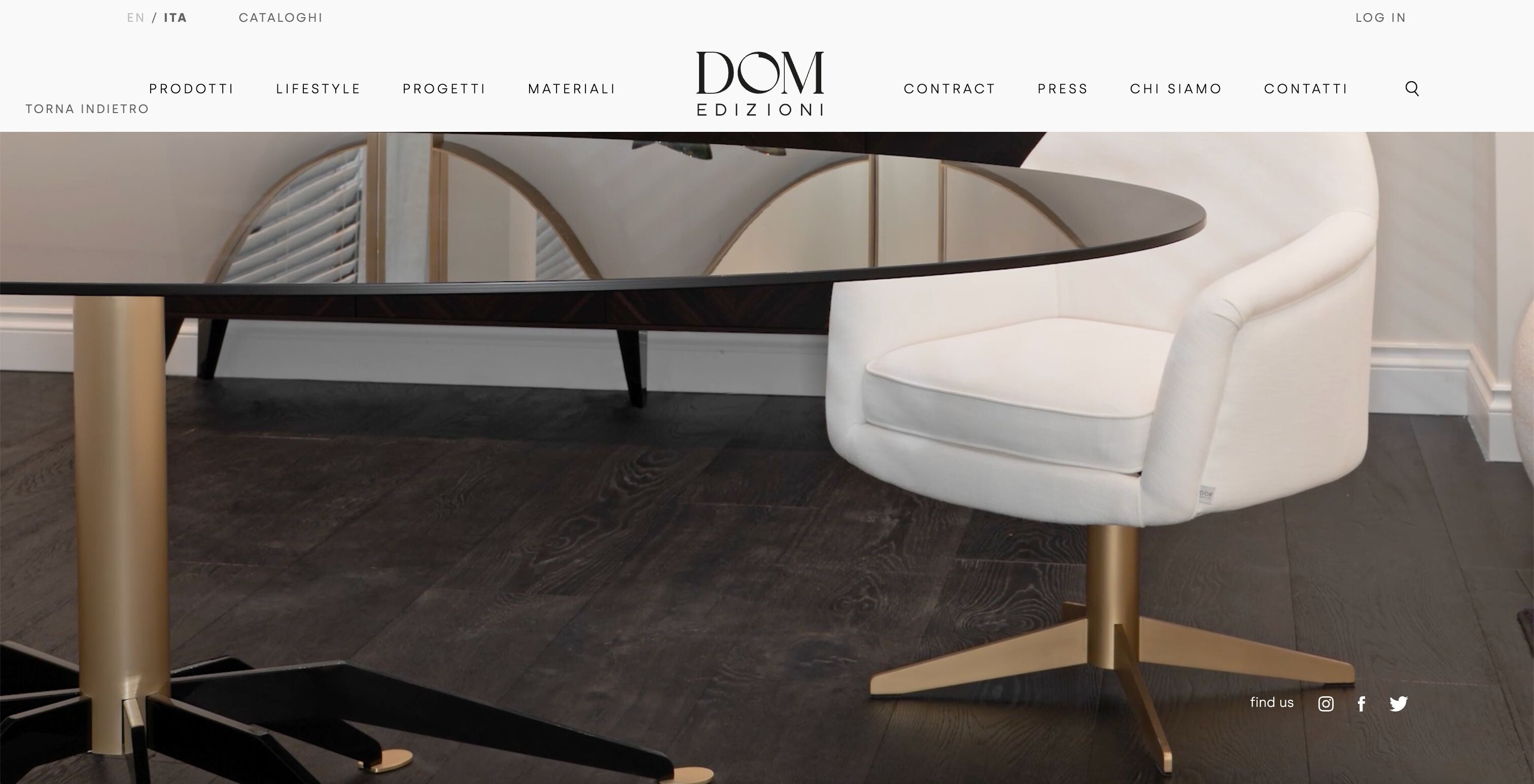 Unveiling Timeless Elegance in Furniture Design with Dom Edizioni
Dom Edizioni is a leader in the field of high-end furniture design and is known for their rigorous attention to detail and sense of timelessness. This Italian company, established in 2006 by Domenico Mula, has won acclaim worldwide for its flawless designs that deftly meld traditional aesthetics with modern sensibilities. Dom Edizioni has amassed a devoted following of architects, interior designers, and design enthusiasts because to its unwavering dedication to quality and eye for exquisite design.
Design Principles
Dom Edizioni's design ethos is based on the idea that furniture should transcend passing fads and endure the test of time. Because aesthetics and functionality have been painstakingly combined, each piece has a unique personality and an innate feeling of balance. The firm incorporates a contemporary spin into its products while drawing inspiration from a variety of sources, such as the Art Deco movement and mid-century modern design. Dom Edizioni has been able to carve out its own position in the cutthroat world of luxury furniture thanks to this innovative strategy.
Authentic Collections
The excellent array of distinctive collections that Dom Edizioni has to offer showcases the company's dedication to fine craftsmanship and classic beauty. The "Metropolitan," which honours the opulent era of the 1920s and 1930s, is one such collection. This collection transports you to a bygone period of elegance and sophistication because to its simple designs, plush fabrics, and elegant finishes. Each element, from opulent seating options to alluring lighting fixtures, is painstakingly created to produce a calming atmosphere in any room. The "Private Collection" is yet another noteworthy collection from Dom Edizioni. This collection, which draws its inspiration from the lavishness of opulent estates and private homes, demonstrates the brand's aptitude for fusing traditional design components with modern aesthetics. The magnificent dining tables, seats, cabinets, and sofas in the collection all exude an air of sophisticated luxury. The Private Collection epitomises elegance and exclusivity with its rigorous attention to detail and dedication to obtaining the best materials.
Materials and Craftsmanship
Its unrelenting dedication to excellence is what really distinguishes Dom Edizioni. The company works with professional craftsmen who have a thorough awareness of conventional methods and precisely apply them to each piece of furniture. Each piece is meticulously created, guaranteeing a faultless finish that enhances the entire design. Dom Edizioni uses a wide range of materials, including pricey linens, gleaming metals, and sumptuous woods, all of which are purchased from reliable manufacturers all over the world. Furniture items made from this combination of materials show both elegance and toughness.
Customization
Dom Edizioni provides a great level of customization since they understand how important individualization is in interior design. Customers can choose from a variety of fabrics, finishes, and dimensions to customise each piece to their particular tastes. With the help of this bespoke method, designers and homeowners can produce really unique homes that showcase their distinctive tastes and styles. These unique artworks are painstakingly brought to life by Dom Edizioni's team of skilled artisans, who make sure that each and every detail is done to perfection.
Customer service and experience
The dedication of Dom Edizioni to provide a superior customer experience is clear as soon as you interact with the company. Whether you're a consumer looking for a statement piece or an interior designer working on a significant project, the brand's committed team is ready to assist you in making your decision. Each client receives individualised attention and support from Dom Edizioni, starting with the initial consultations and continuing until the final delivery. A network of accredited dealers and showrooms supports the brand's global visibility and enables customers to view the fine craftsmanship firsthand. In conclusion, Dom Edizioni is a prestigious company that has made a name for itself in the world of luxury furniture design as a beacon of timelessly elegant style. The brand has been successful in capturing the attention of design fans all around the world thanks to its flawless craftsmanship, combination of traditional and modern components, and dedication to personalization. Dom Edizioni offers a treasure trove of furniture items that turn rooms into stunning works of art, from its iconic collections to the bespoke creations made to suit particular preferences. Enjoy the splendour of Dom Edizioni and bring new levels of sophistication and beauty to your living areas.