Eichholtz Review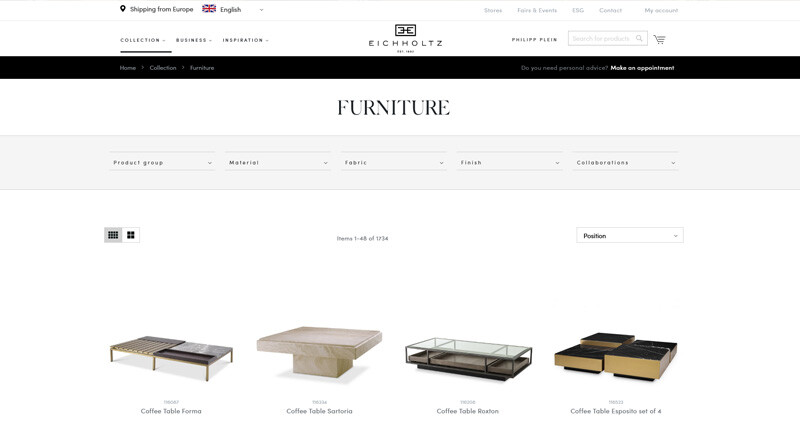 Introduction of Eichholtz.com
For more than 50 years, the name Eichholtz has stood for beautiful craftsmanship, superior quality, and timelessly fashionable home decor. With a dedication to designing opulent interiors, Eichholtz provides a vast selection of furniture, lighting, accessories, and decor items that give every room a sense of grandeur. We will explore the history, design ethos, product offering, and general user experience of the brand in an in-depth review.
History and Design Philosophy
Theo Eichholtz founded the company in 1967, and since then it has become a world leader in luxury home furnishings. Eichholtz creates timeless and fashionable products by merging classical elegance with modern aesthetics that are inspired by classic design principles. With trained artisans painstakingly handcrafting each item to perfection, the brand takes pride in its attention to detail.
Product Selection
Eichholtz provides a variety of home furnishings, lighting, mirrors, rugs, pillows, and other accessories. Their furniture line includes sophisticated sofas, chairs, tables, cabinets, and beds made from high-quality materials including plush leathers, velvets, and polished metals. Beautiful chandeliers, pendant lights, table lamps, and floor lamps, all created to complement and illuminate any space, are included in the lighting collection. The brand's decor accents are expertly picked and include elaborately carved vases, sculptures, candleholders, and trays that give any environment a sense of refinement. Eichholtz additionally provides an outstanding range of mirrors in a variety of sizes and forms with lovely frames that serve as the room's focus points. The collection is completed by their elegant carpets and cushions, which come in a wide range of textures, designs, and hues to accommodate various design tastes.
Quality and craftsmanship
Eichholtz's dedication to outstanding quality is clear in every product they produce. In order to ensure lifespan and durability, the company only uses materials from reliable vendors. To bring their creations to reality, their talented artisans combine ancient methods with cutting-edge technology. The result is finely produced products that last the test of time. A luxurious and long-lasting product is ensured by Eichholtz's rigorous attention to detail and use of top-quality materials.
Design Styles
With collections that seamlessly meld with various aesthetics, Eichholtz offers a wide variety of design styles. No matter what style you prefer—classic, modern, Art Deco, Hollywood Regency, or transitional—Eichholtz offers options to suit you. Each piece is carefully crafted to blend in with current decor or stand out as a statement piece, resulting in an atmosphere that is both unified and aesthetically attractive.
Shopping Experience
The official Eichholtz website offers a simple and convenient shopping experience. Customers may quickly navigate through the website's large product selection thanks to its attractive design. Customers get access to all product information, including descriptions, measurements, and high-resolution photos. Customers may see and touch the quality and craftsmanship of the brand's items in person thanks to its extensive global network of authorised merchants and showrooms. The experienced and caring staff at Eichholtz is committed to aiding clients in choosing the ideal pieces to match their interior design ideas.
Customer Retention
Eichholtz has developed a devoted customer base that values their dedication to quality. The firm is praised by customers for its great customer care, quick deliveries, and easy online shopping process. Eichholtz goods are well known for their strength and flawless craftsmanship, underscoring the fact that they are investments worth making. In summary, Eichholtz is a well-known luxury home decor company that epitomises class, sophistication, and unsurpassed craftsmanship. The brand provides a broad assortment to improve any area, including a variety of furniture, lighting, accessories, and design items. Whether you're going for traditional richness or modern chic, Eichholtz's painstakingly created items will support your interior design goals and turn your house into a refuge of timeless charm.
Conclusion
The well-known luxury home decor company Eichholtz personifies class, sophistication, and unsurpassed craftsmanship. The brand provides a wide choice of furniture, lighting, accessories, and design items that may enhance any room. Eichholtz's painstakingly created items will enrich your interior design vision, transforming your house into a refuge of timeless style whether you prefer traditional opulence or modern chic.