Porro Review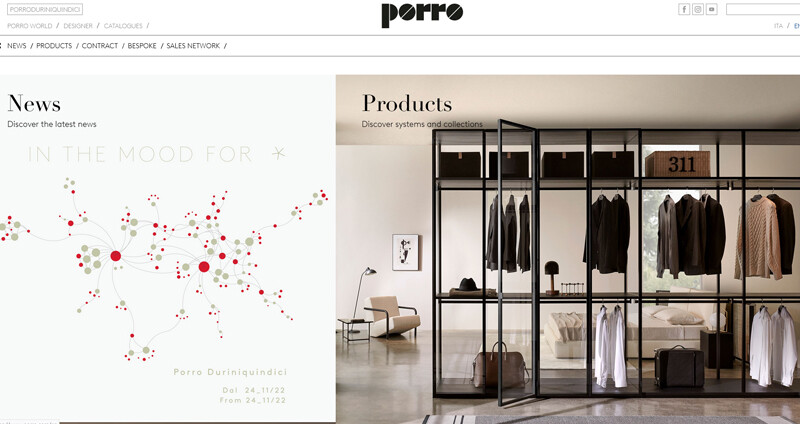 Introduction
Porro is an example of Italian expertise in the world of luxury furnishings and interior design. With a long history dating back more than 90 years, Porro has continually produced outstanding craftsmanship, cutting-edge design ideas, and a dedication to creating visually beautiful and efficient living environments. This evaluation examines the brand's furniture collections, sustainability policies, and distinctive design philosophy.
Collections of furniture
The furniture collections of Porro are evidence of their commitment to classic style and sophistication. Exceptional craftsmanship and meticulous attention to detail are evident in every piece, creating furniture that expertly combines form and function. Porro offers a wide selection of furniture for every room in the house, including opulent wardrobes and shelving systems, tables, chairs, and storage options. The focus on natural materials, minimalism, and clean lines define the company's design philosophy. Porro embraces simplicity, putting the aesthetics of the components and the usefulness of the design front and centre. Each piece, whether it be the "Fifty" dining table's sculptural allure or the "Modulor" shelving system's clean lines, embodies the brand's dedication to making aesthetically pleasing living spaces.
Customization and innovation
Pushing the limits of design and creativity is something Porro takes great delight in. To produce furniture that transcends trends and leaves an impression, they work with renowned designers and architects from around the world. The brand's utilisation of cutting-edge manufacturing processes and materials demonstrates its dedication to innovation. Porro welcomes modification because it understands that every person has different preferences and needs. Their furniture comes in a variety of finishes, colours, and combinations so that it can be customised to meet individual requirements. The versatility of Porro's pieces ensures that they fit in with any decor, whether it be a traditional suburban house or a modern urban loft.
Sustainability
In a time when environmental sustainability is crucial, Porro is committed to lessening its negative environmental effects. The company approaches sustainability holistically, taking into account every step of the manufacturing process. They prioritise using eco-friendly products and use ethical manufacturing techniques to reduce waste and energy usage. The dedication of Porro to sustainability goes beyond the production stage. They try to make designs that are timeless and stand the test of time, which lessens the need for regular replacements. Additionally, the company actively promotes the circular economy by providing services for furniture repair and refurbishment to increase furniture longevity and decrease waste.
The experience with Porro
Buying Porro furniture is more than just a material possession; it's an immersive adventure. The brand's showrooms are exquisitely designed environments that highlight the true spirit of its offerings. Customers may get a close-up look at the exquisite craftsmanship, avant-garde designs, and unmatched attention to detail because they provide a window into the world of Porro. Outstanding customer service is offered by Porro. The brand's skilled and enthusiastic employees are available at all times to assist consumers with their selections by providing insightful advice. From the initial consultation to the final delivery and installation, their dedication to customer satisfaction is clear, delivering a smooth and joyful experience.
Conclusion
The success Porro has had in the design industry is a result of their consistent dedication to quality, originality, and sustainability. Porro has established itself as a true pioneer in the industry with their unique furniture collections, devotion to workmanship, and concentration on designing practical living spaces. Porro's offers are certain to take any room to new levels of aesthetic and functionality, whether you're looking for traditional elegance or modern refinement. In conclusion, Porro provides an unmatched fusion of Italian design prowess, flawless craftsmanship, and sustainability. Their furniture collections exemplify classic beauty, and because they value customisation, each item works perfectly with different tastes. Porro keeps pushing the limits of modern interior design with a focus on innovation and an immersive client experience.