Porada Review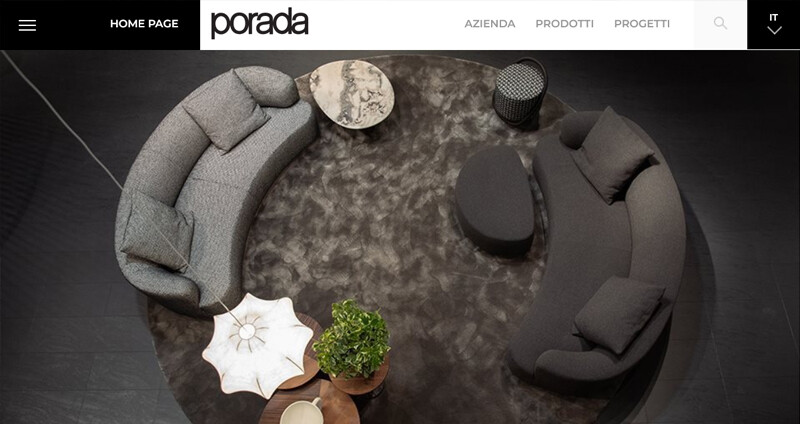 Checking out Porada.it
In the realm of interior design, the prestigious Italian furniture company Porada has made a name for itself as a beacon of class and sophistication. The company, which has a long history dating back to 1948, has consistently improved its goods to cater to the changing demands and preferences of discerning customers. In-depth analysis of Porada's history, design ethos, product offering, and distinguishing characteristics from rivals are covered in this assessment.
Heritage and Design Philosophy
Porada's adventure began in the Italian furniture manufacturing region known as Brianza, a tiny village. The brand's founding principles centred on the fusion of traditional craftsmanship and cutting-edge design. Every piece of furniture is built with this philosophy in mind, producing classic designs that expertly combine practicality and beauty.
Product Selection
Porada offers a wide selection of furniture for the living room, dining room, bedrooms, and home office, among other spaces in the house. They have both indoor and outdoor furniture in their collection, all of which are clearly the product of excellent craftsmanship and meticulous attention to detail.
Living Room
Porada's dedication to producing opulent yet useful furniture is best demonstrated by its living room line. Each piece oozes refinement, from the magnificent sofas and armchairs to the classy coffee tables and TV units. The longevity and aesthetic appeal of these designs are further enhanced by the use of premium materials like solid wood, leather, and textiles.
Dining Room
The magnificent tables, chairs, sideboards, and display cabinets in Porada's dining room collection are available. These items enhance the dining experience because they were made with extreme care and precision. The tables, which come in a variety of sizes and forms, are the centre of attention in any dining room thanks to their beautiful finishes and finely made bases.
Bedroom
Porada is aware of the value of a peaceful, opulent bedroom. Their bedroom collection consists of exquisitely made mattresses, dressers, closets, and bedside tables that blend practicality and aesthetic appeal. Rich woods, exquisite upholstery, and delicate details are used to create an air of refined luxury that serves as the ideal haven for unwinding.
Home Office
Porada provides a selection of thoughtfully designed office furniture in response to the growing trend of working from home. Each item, from a modern desk to an ergonomic chair to adaptable storage options, is carefully designed to increase efficiency and foster an inspirational environment. The combination of leather, metal, and wood complements modern design sensibilities. Porada's selection of outdoor furniture showcases the company's exquisite craftsmanship in the great outdoors. Create a magical outdoor retreat with these designs' seamless blending with nature. Elegant tables, chairs, loungers, and even pergolas are all part of the outdoor collection, which was created to survive the weather without sacrificing beauty or comfort.
Materials and craftsmanship
Each piece that Porada makes demonstrates their dedication to using only the best materials. The brand uses solid wood primarily, especially Canaletta walnut, which is renowned for its warm tones and natural beauty. Each item is painstakingly crafted by skilled artisans, who guarantee flawless craftsmanship, seamless finishes, and exquisite attention to detail. This handcrafted method ensures that each item is a unique work of art and guarantees longevity. While valuing traditional craftsmanship, Porada also values innovation and collaboration in order to be on the cutting edge of design. The company works with well-known designers who contribute novel viewpoints and innovative concepts. This interplay produces ground-breaking designs that challenge conventional notions of form and functionality while preserving the core of Porada's design ethos.
Personalization & Customization
Porada is aware that every client has different tastes and needs. As a result, they provide a high degree of customisation and customization possibilities. Customers can construct furniture that exactly complements their own style and home decor by choosing from a variety of finishes, textiles, and leathers.
Sustainability
Porada values being considerate of the environment. By obtaining materials from accredited vendors and utilising environmentally friendly production methods, they place a high priority on sustainable practises. Their packaging, which is made with a focus on reducing waste and adverse environmental effects, reflects their commitment to sustainability. Porada is a company that skillfully fuses the enduring charm of Italian craftsmanship with cutting-edge design sensibility. Porada provides furniture for every area of a stylish and practical house, including living room, dining room, bedroom, home office, and outdoor pieces. Because of their unwavering dedication to high-quality materials, precise craftsmanship, innovation, and sustainability, Porada has become a benchmark for class and refinement in the interior design industry. Porada should be at the top of your list if you're looking for furniture that seamlessly combines beauty and usability.