Bang & Olufsen Review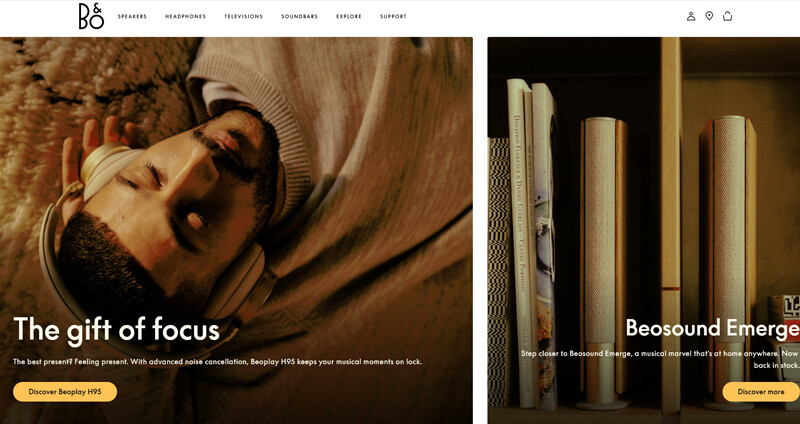 Introduction
One brand stands out particularly in the world of high-end audio and video gear: Bang & Olufsen. This Danish company, which has a rich history spanning almost a century, continuously pushes the boundaries of innovation and design, producing goods that seamlessly combine cutting-edge technology, precise workmanship, and unmatched performance. This study will go into the world of Bang & Olufsen, showcasing their unique selling points while examining their wide range of products.
Excellence in craftsmanship and design
A Bang & Olufsen product immediately catches your attention because you can tell that every detail has been carefully thought out and expertly produced. The brand's dedication to excellent design is genuinely motivating. Each piece was designed to perfectly fit into any contemporary living area and is a harmonious combination of sleek aesthetics and brilliant functionality. Whether it's their renowned speakers, televisions, or headphones, Bang & Olufsen items display a timeless beauty that enhances modern decor while also making a bold fashion statement.
Advanced Technology
Bang & Olufsen is recognised for pushing the limits of technological innovation in addition to their remarkable design. The company continually leads the way in audio and visual technological improvements to make sure that their products provide a unique and unforgettable experience. Bang & Olufsen explores new territories with a team of committed engineers and designers, incorporating the most recent developments into their product selection. Their products are the height of audiovisual perfection, from wireless networking and multi-room audio systems to cutting-edge picture processing and adaptive sound technology.
High-quality headphones and speakers for audio
Where Bang & Olufsen's audio expertise truly shines is in their speaker lineup. Their speakers, which are made with extreme care, provide an audio experience that is unmatched and breaks down conventional barriers. Bang & Olufsen provides speakers to fit your tastes, whether you're an audiophile seeking accurate sound reproduction or someone who values a strong bass response. While the Beolab series represents the peak of audio performance, offering powerful amplification and deep soundscapes, their Beoplay range caters to discerning listeners who seek a balance between mobility and great sound quality. Bang & Olufsen also provides a wide selection of amazing headphones in addition to its speakers. These headphones give uncompromised audio quality, engulfing you in an immersive auditory experience, and were created with the same rigorous attention to detail. You can anticipate a seamless mix of comfort, style, and superb sound reproduction whether you choose the wireless convenience of the Beoplay H9 or the sporty elegance of the Beoplay E8.
TVs and displays with excellent visuals
The dedication of Bang & Olufsen to excellent audio carries over to the world of superior visuals. Their selection of televisions and displays blends cutting-edge technology with chic design to give an unparalleled level of immersion in the visual world. The Beovision line of televisions features outstanding OLED screens with lifelike colours, rich blacks, and superb contrast that let you enjoy your favourite shows, games, and movies in unmatched detail. Bang & Olufsen televisions bring your entertainment to life with astonishing realism by supporting HDR and Dolby Vision.
Connectivity and User Experience
Bang & Olufsen recognises the value of a smooth user experience, and their products are created to provide easy connectivity and straightforward operation. Bang & Olufsen makes sure that the user experience is simple and enjoyable, whether you're using their Beoplay app to control your speakers and headphones or taking advantage of wireless connectivity with their televisions. With compatibility for well-known streaming services and the ability to connect their systems with other smart home devices, their dedication to connectivity goes beyond just their own products, making it simpler than ever to design a unique and immersive audiovisual environment.
Conclusion
Bang & Olufsen has earned a reputation for providing unmatched luxury audio and visual experiences. The company keeps pushing the limits of what is possible in the world of high-end audiovisual equipment with their everlasting commitment to craftsmanship, cutting-edge technology, and great user experience. The Bang & Olufsen product line will definitely captivate your senses and take your audiovisual adventure to new heights, whether you're a discerning audiophile or a design enthusiast seeking a seamless fusion of technology and aesthetics.