The Rug Company Review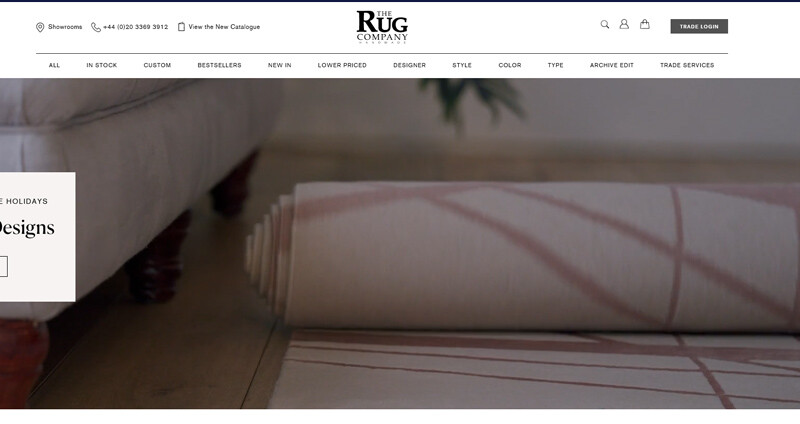 Introduction
When it comes to interior design, a carefully picked rug can completely change a room by bringing cosiness, texture, and a hint of elegance. Known for its magnificent, handcrafted rugs, The Rug Company is a well-known company in the industry. The Rug Company has become a top supplier of opulent floor coverings thanks to its dedication to quality, craftsmanship, and cutting-edge design. We will examine the brand's selection of rugs, materials, design partnerships, and other features in this evaluation.
Navigating and using a website
Visitors are welcomed by a modern and eye-catching layout when they first access The Rug Company's website. The website has an uncluttered appearance that highlights the carpets' natural beauty. It is simple to peruse the extensive collection thanks to the intuitive navigation and well defined categories. Users may instantly locate particular rugs using the search tool or narrow their search by size, colour, material, and style, resulting in a seamless shopping experience.
Varieties of rugs
The Rug Company offers a wide array of rugs that appeal to a wide range of tastes and interior design aesthetics. They have something in their assortment for any discriminating customer, from modern geometric motifs to traditional Oriental patterns. Each rug is painstakingly hand-made, creating a one-of-a-kind object that oozes artistry and workmanship. Detailed descriptions and high-resolution pictures are provided on the website so that potential customers can see the fine intricacies and high calibre of each rug.
Quality and Components
Its persistent dedication to using the best materials available is one of The Rug Company's defining characteristics. The brand guarantees that each rug is made with the highest care and attention to detail, whether it is made of lustrous silk, plush wool, or a combination of both. The material selection ensures endurance and durability in addition to adding to the aesthetic appeal of the product overall. A rug from The Rug Company may be preserved with the right care and handed down through the generations as a prized heirloom.
Cooperative design
The Rug Company has worked with some of the most accomplished designers in the world, adding a wide variety of artistic viewpoints to their inventory. These partnerships lead to rugs that are wholly original and push the limits of design. Famous designers like Paul Smith, Vivienne Westwood, and Kelly Wearstler have contributed their knowledge to produce carpets that are equally as much works of art as they are useful floor coverings. The brand's offerings are elevated by this association with forward-thinking designers, attracting design aficionados looking for extraordinary items with impact.
Bespoke services and personalization
The Rug Company offers personalised and customised services in order to cater to each client's specific requirements because they understand that each area is unique. A perfect fit for their unique needs is ensured by the possibility for customers to alter the size, shape, colour, and design of some carpets. Throughout the customisation process, the brand's trained craftspeople collaborate closely with customers, offering assistance and close attention to detail. Customers can design genuinely unique rugs using this individualised method that perfectly reflect their individual styles and go with their interior decor.
Service and customer encounters
In order to give customers a seamless and pleasurable purchasing experience, The Rug Company recognises the value of providing great customer service. To assist consumers in maintaining the condition of their rugs, its website provides a variety of information, including cleaning guidelines and upkeep advice. In order to make sure that consumers feel supported and well-informed throughout their shopping journey, the brand's professional and courteous personnel is always accessible to answer questions or offer assistance.
Ethical conduct and sustainability
The Rug Company is committed to sustainable and moral business practises in addition to their commitment to workmanship. By following strict environmental and social criteria, they ethically acquire their supplies. Additionally, the company aids communities who weave in various parts of the world, guaranteeing that rug makers receive fair pay and safe working conditions. Customers may be sure they are purchasing a rug that has been made with regard for both people and the environment by purchasing one from The Rug Company.
Conclusion
A wide variety of handcrafted carpets from The Rug Company combine traditional elegance with cutting-edge design, making it the very definition of luxury. Everything about the brand oozes beauty and expertise, from their expertly picked selection to their partnerships with well-known designers. The Rug Company differentiates itself in the cutthroat market for luxury carpets by putting an emphasis on high-quality materials, customizable alternatives, and environmentally friendly practises. The Rug Company has the ideal rug to upgrade your room and leave a lasting impression, whether you're looking for a statement piece or a subdued improvement to your decor.