Rugs of London Review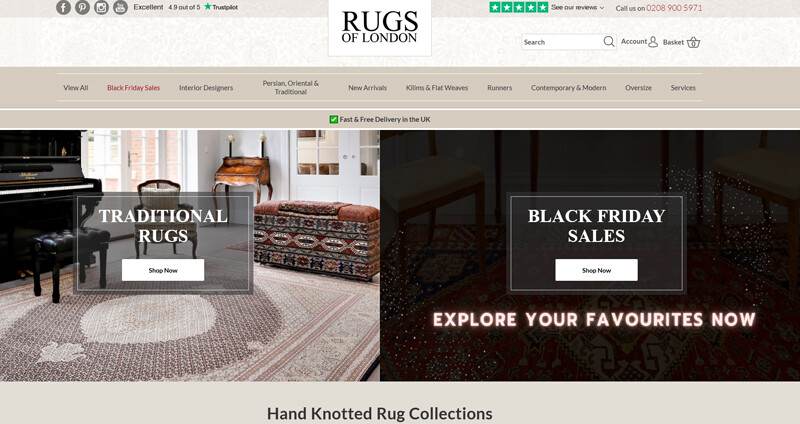 Introduction
Few things have the transformational power of a well-chosen rug when it comes to boosting the ambiance of your living room. A leading name in home décor, Rugs of London, is adept at understanding this idea. This business provides an extraordinary fusion of quality, style, and elegance with a wide selection of skillfully crafted rugs. Rugs of London provides something to fit every taste and interior design concept, whether you're looking for a modern statement piece or a classic masterpiece.
Exquisite Craftsmanship
One of Rugs of London's distinguishing qualities is the superb craftsmanship that goes into creating each and every rug. The company partners closely with knowledgeable artisans who combine old methods with contemporary inventions to produce rugs of unrivalled quality. Every rug, whether it is a hand-knotted Persian rug or a delicately woven Moroccan design, is painstakingly constructed with care to every little detail, producing a piece that is not only aesthetically gorgeous but also made to last. Rugs of London has a large rug selection that is both stylish and diverse, catering to a variety of design tastes. This business provides everything you need, whether you're looking for a rug to go with a modern, minimalist space or a piece that emanates a classic, vintage appeal. They have a variety of designs in their collection, including custom and even traditional, modern, and transitional pieces. Rugs of London guarantees that there is a rug to fit every room and individual aesthetic thanks to their wide selection of patterns, colours, and textures.
High-Quality Materials
It's important to think about the materials used while buying a rug. Knowing this, Rugs of London takes pride in using only the best materials on the market. Their carpets are produced from high-quality fabrics that not only increase their visual appeal but also provide longevity and comfort, ranging from opulent wool and silk to natural fibres like jute and sisal. In order to help you make a responsible decision without sacrificing style, carpets of London also provides eco-friendly solutions, such as carpets produced from recycled materials.
Website is user-friendly
It's a joy to browse the Rugs of London website because it's so straightforward. You may easily navigate through their large inventory by using the well-designed interface to filter by style, size, material, and colour. High-resolution pictures and thorough explanations are included with each rug to provide customers a complete overview of the item. The website also provides a virtual room visualisation tool so you can see how a rug will look in your room before you buy it. This function makes for a flawless online buying experience and is especially helpful in assisting you in making an informed selection.
Excellent Customer Service
Rugs of London is aware of the value of offering first-rate customer service. Whether you have questions about choosing a rug, caring for it, or receiving it, their experienced and welcoming staff is here to help. The company also provides a simple return policy, giving you piece of mind in case you need to swap or return something. The glowing reviews and testimonials that Rugs of London receives from their delighted clients reflect their dedication to ensuring customer happiness. In conclusion, Rugs of London has solidified its position as a top brand in the home décor industry by providing a fantastic selection of rugs that combine unmatched quality, style, and craftsmanship. Their carpets come in a wide range of styles to suit different tastes, so they're guaranteed to improve the aesthetic appeal of any living area. The brand's commitment to employing premium materials and offering a smooth online shopping experience only serves to increase its attractiveness. Rugs of London is a great option for anyone looking for elegance, refinement, and timeless style, whether they are design enthusiasts or just trying to improve the appearance of their home.