Giorgio Collection Review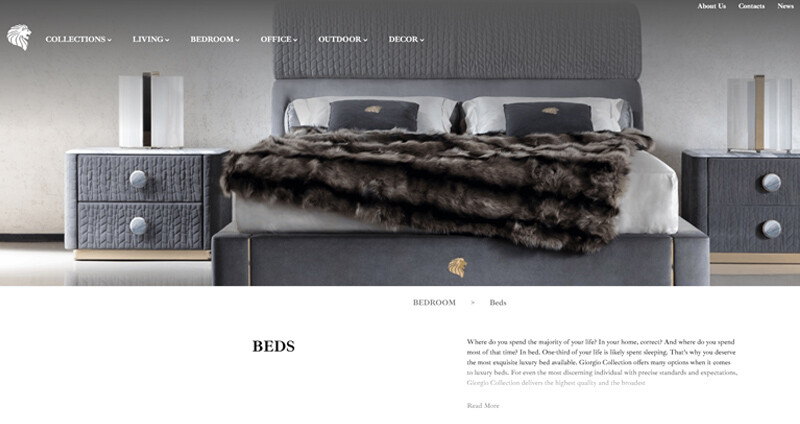 Introduction
ture that turns every room into a haven of luxury and relaxation. It is renowned for its flawless craftsmanship, classic designs, and use of opulent materials. This firm spares no effort to give great quality and visual apGiorgio Collection is a top name when it comes to designing bedrooms that ooze luxury and elegance. Giorgio Collection provides a selection of bedroom furnipeal, from magnificent bed frames to exquisite dressers and nightstands. Giorgio Collection is proud of its everlasting dedication to exquisite craftsmanship and its reputation for unmatched excellence. Each piece of furniture is carefully planned and built to guarantee endurance and durability. Expert craftspeople use the best of both worlds by combining modern technology with old techniques to produce works of art.
The brand's commitment to detail can be seen in the bedroom furniture collection's exquisite finishes, elaborate carvings, and precise craftsmanship. Each item bears witness to the brand's commitment to producing classic looks that will be appreciated for many years. Giorgio Collection's bedroom furniture features timeless designs that harmoniously combine traditional elegance and modern flair. The company caters to all interests and preferences by embracing a wide variety of design aesthetics. The Giorgio Collection has a wide range of options to suit different design sensibilities, whether you like a clean and contemporary aesthetic or a more ornate and classic style. The brand's designs are notable for their ability to withstand fashion trends and stay current over time. The furniture items are effortlessly timeless thanks to their simple shapes, proportionate sizes, and exquisite aesthetic sense. This makes sure that your bedroom will continue to be a fashionable retreat for years to come.
Giorgio Collection doesn't cut corners when it comes to choosing materials for their bedroom furniture. The brand ensures a luxury and opulent experience by sourcing the best materials from all over the world. Each item, from luxurious upholstery fabrics and leather to woods with deep grain patterns like mahogany and walnut, has been carefully picked for its quality and aesthetic appeal. The choice of high-quality materials improves the furniture's overall beauty while also adding to its comfort and durability. Giorgio Collection knows how important it is to give customers a really luxurious experience, and their material choices demonstrate this dedication.
Beautiful Bed Frames
The gorgeous bed frames from Giorgio Collection are the centrepiece of their bedroom furniture line. These statement items act as the room's main point and anchor while exuding elegance and comfort. Giorgio Collection offers a variety of styles to suit different tastes, whether you want a regal canopy bed or a sleek and modern platform bed. Every bed frame is painstakingly made, and the elaborate headboards, fine carvings, and plush upholstery are just a few examples of how careful the construction is. The company's designs reflect the idea that a bed should be more than just a place to sleep; it should be a haven of luxury and comfort.
Elegant Dressers and Nightstands
Giorgio Collection offers a range of dressers and nightstands that are the ideal complement to their bed frames, completing the set. These accessories give a sense of elegance to your bedroom while also providing useful storage options. The dressers and nightstands are made with the same exacting standards of craftsmanship and high-end materials as the bed frames. To guarantee that functionality and elegance live peacefully, every detail—from deftly crafted drawer fronts to easy-gliding mechanisms—is meticulously taken into account. The bedroom furniture line from Giorgio Collection is the height of style and refinement. Every element of their furniture oozes sophistication and refinement, from the flawless craftsmanship to the timelessly elegant designs and use of quality materials. In order to take your bedroom to new levels of opulence, Giorgio Collection offers a wide variety of alternatives, whether you choose a classic or contemporary style. Discover the charm of Giorgio Collection and turn your private hideaway into a stylish and comfortable haven.