Carpe Diem Beds Review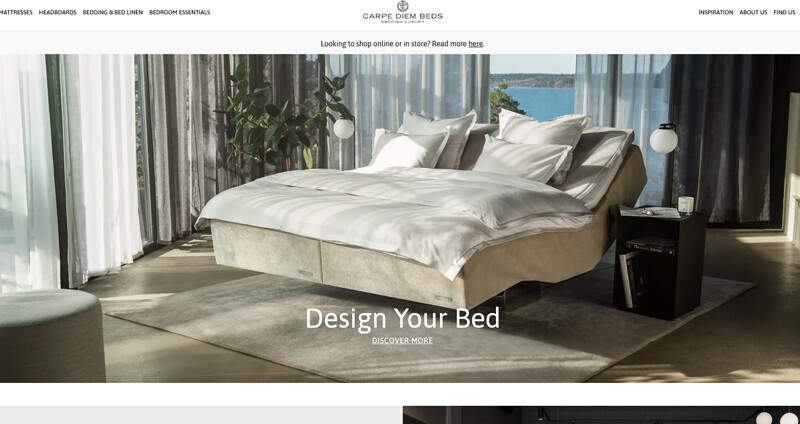 Introduction
A well-known company, Carpe Diem Beds, has made a name for itself as a pioneer in the luxury mattress sector. Carpe Diem Beds has established a reputation for offering unrivalled comfort and rejuvenation thanks to a dedication to great craftsmanship, rigorous attention to detail, and a focus on providing the ideal sleep experience.
Materials and Craftsmanship
Carpe Diem Beds takes great pride in its precise construction and use of premium components. Each mattress is individually created by trained craftspeople who put their knowledge into each stitch and curve. By focusing on sustainable practises and using eco-friendly materials, the business creates products that are not only opulent but also considerate to the environment. The commitment to using natural materials by Carpe Diem Beds is one of the distinctive features of the company. They place a high priority on using latex that is 100 percent natural and organic since it has excellent breathable, durable, and hypoallergenic qualities. Because of this, their mattresses are appropriate for people with allergies or sensitivities. Additionally, the company adds hand-selected natural fibres like cotton and wool to its mattresses to increase comfort and foster a healthy sleeping environment.
Improved Sleep Technologies
Carpe Diem Beds recognises the value of good sleep and works tirelessly to incorporate cutting-edge technology that improve the entire sleeping environment. Their mattresses come equipped with cutting-edge pocket spring systems that are intended to offer superior support and ensure little motion transfer, helping you and your companion to sleep soundly all night long. Also included in Carpe Diem Beds' mattresses is the innovative Contour Pocket System, which is a unique feature. This technology exactly conforms to the curves of your body, offering individualised support and reducing pressure areas. This technology encourages optimal spinal alignment and helps reduce discomfort, enabling a sound and refreshing sleep by straightening the spine and distributing weight evenly.
Customization and Collections
To meet different needs and sleep preferences, Carpe Diem Beds provides a wide variety of mattress collections. Their collections offer a variety of possibilities, whether you like a harsher or softer feel. The pinnacle of comfort and elegance is displayed in the Signature Collection. For a genuinely luxurious sleeping experience, these mattresses bring together the best natural materials, cutting-edge technologies, and painstaking craftsmanship. The Exclusive Collection is a special chance to customise the mattress in accordance with particular preferences for people who desire further customization. Carpe Diem Beds guarantees that every mattress is perfectly personalised by offering a large selection of comfort layers, firmness options, and personalised features.
Trial and Warranty for Sleep
Carpe Diem Beds provides an extended sleep trial period since they realise how important it is to experience a mattress before making a long-term investment. Customers are given the chance to experience the quality and comfort firsthand for a prolonged period of time, guaranteeing their complete happiness with the purchase. Additionally, Carpe Diem Beds offers a thorough warranty to demonstrate its confidence in the strength and effectiveness of their mattresses. This dedication to client happiness indicates the company's faith in the durability and quality of its goods.
Final Reflections
The height of luxury and comfort in the mattress market is represented by Carpe Diem Beds. They have successfully carved out a position in the market thanks to their persistent commitment to great craftsmanship, the use of natural materials, and cutting-edge sleep-enhancing technologies. The brand stands out for its dedication to sustainability and personalization, which enables customers to personalise their sleep experience to suit their preferences. Every customer will find their ideal fit thanks to Carpe Diem Beds' wide selection of collections and personalised options. Purchasing a Carpe Diem Beds mattress ensures not just a restful night's sleep but also a healthy way of life. Explore the world of Carpe Diem Beds to find the height of support, comfort, and rejuvenation.