Bentley Home Review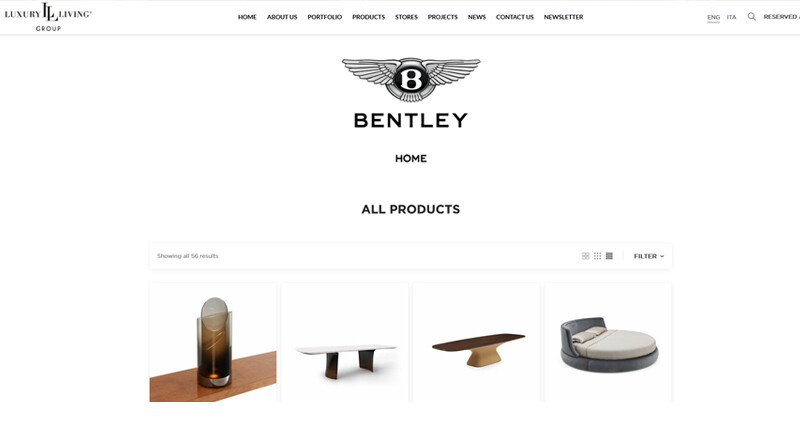 Overview of Luxury Living Group
Bentley Collection is just one of several notable brands with which Luxury Living Group has worked in the past. Luxury Living Group was founded in 1999 and has since gained a name for its extraordinary luxury furniture and accessories that are influenced by fashion icons from the world of haute couture and Italian design. Luxury Living Group produces beautiful solutions for discerning people looking to curate distinctive living spaces with an emphasis on developing bespoke products that blend comfort and aesthetic appeal.
The Bentley Collection
Interior Design Meets Automotive Artistry. The peak of automotive-inspired interior design is represented by The Bentley Collection by Luxury Living Group. The line adds a new level of luxury living by drawing influence from Bentley's renowned craftsmanship and design language. Each item bears witness to the shared ideals of both companies: innovation, excellence, and a relentless pursuit of perfection.
Craftsmanship and Design
Every piece in the Bentley Collection was created to capture the essence of Bentley's renowned vehicles, giving it an air of timeless luxury. Rich woods, luxurious leathers, and expertly crafted metals are just a few of the exquisite elements that are artfully combined to create pieces that redefine luxury living as well as showcase automotive artistry. From lavish sofas to tasteful dining tables, the attention to detail elevates each piece of furniture into a work of art.
Unique Pieces
Bentley Continental Sofa. The pinnacle of comfort and luxury is the Bentley Continental Sofa. This sofa is covered in the finest leather and has a classic silhouette that is reminiscent of the luxurious interiors of Bentley cars. It also has clean lines and characteristic stitching. The Mulsanne Armchair is modelled by Bentley's luxurious Mulsanne sedan. It combines handcrafted wood and velvety leather. The Mulsanne Armchair infuses your living area with automobile opulence thanks to its ergonomic form and sophisticated looks.
Bentayga Desk
Inspired by Bentley's SUV, the Bentayga, the Bentayga Desk radiates elegance and functionality. With storage areas and a plush leather writing top, this desk combines functionality and artistry. Small touches of opulence in the accessories The Bentley Collection goes beyond furniture and consists of a variety of magnificent accent pieces that give any room a dash of richness. Every Bentley accessory, from skillfully designed tableware and lighting fixtures to velvety pillows and blankets, captures the spirit of the brand's grandeur and sophistication.
Sustainable Luxury Production
The Bentley Collection is no exception to the commitment to sustainability shown by Luxury Living Group. The collection embodies conscientious luxury with an emphasis on eco-friendly procedures and materials obtained ethically. Bentley Collection items not only beautify your living spaces with elegance but also work towards a greener future thanks to the use of sustainable resources and moral manufacturing practises. The Bentley Collection Will Elevate Your Living Spaces
The Bentley Collection by Luxury Living Group you an exceptional chance to infuse your living spaces with the enduring elegance and unmatched luxury associated with Bentley motors. A really outstanding collection is produced by fusing interior design know-how with automobile artistry. Every piece in the collection, from elegant furniture pieces to fine accessories, showcases the mutual enthusiasm between Luxury Living Group and Bentley for fine craftsmanship, refinement, and attention to detail. Explore the Bentley Collection by Luxury Living Group to become fully immersed in the Bentley world of luxury. Bring the art of opulent living and automotive elegance together in your living spaces to create new levels of extravagance.