TagFineArts Review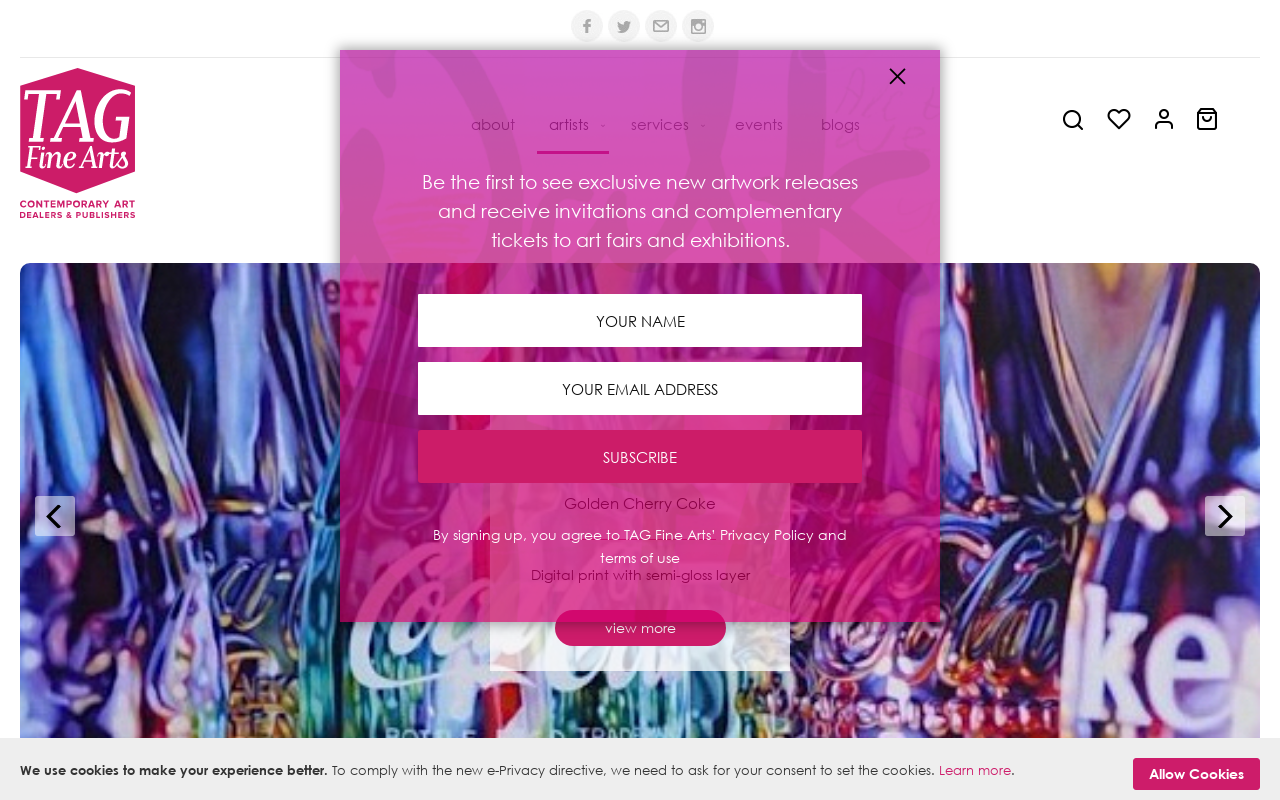 Introduction
A prestigious online art gallery, Tag Fine Arts provides a wide range of great works of art, limited edition prints, and carefully curated collections by well-known contemporary artists. Tag Fine Arts has established itself as a top destination for art lovers, collectors, and interior designers thanks to its dedication to showcasing and honouring the best examples of artistic mastery.
Selection and Curation of Artwork
You can choose from a wide selection of artworks from Tag Fine Arts that span many different styles, mediums, and subjects. The gallery's varied collection will capture your interest whether you enjoy pop art, abstract expressionism, or modern photography. A high quality of aesthetic excellence is ensured by the meticulous selection and curation of each piece. The focus on limited edition prints at Tag Fine Arts is one of its remarkable features. Both seasoned collectors and new art aficionados favour these prints because they offer the chance to purchase excellent works of art at more affordable price points. The gallery works closely with artists to create limited edition prints that accurately reflect the character and finesse of their original creations.
Famous Artists and Exclusive Partnerships
A long list of well-known artists, including Damien Hirst, Grayson Perry, David Mach, and many others, are represented by Tag Fine Arts. The gallery's dedication to collaborating with both well-known artists and up-and-coming artists results in a colourful and dynamic selection that caters to a variety of creative preferences. Additionally, Tag Fine Arts has promoted exclusive partnerships with creative professionals, fashion designers, and cultural organisations. These partnerships produce one-of-a-kind, limited edition artworks that provide collectors a really unique experience. The gallery's partnerships provide a distinctive touch to its collection and raise the creative worth of the goods, whether they be bespoke works or limited edition prints.
High standards and authenticity
The authenticity and top quality of the artworks that Tag Fine Arts offers are highly prioritised. To ensure that every artwork satisfies exacting standards, the gallery works closely with painters, printmakers, and framers. To ensure the endurance and integrity of the artwork, each limited edition print is created using archival-quality materials and precise printing procedures.
Outstanding Customer Experience
Tag Fine Arts offers an amazing customer experience in every way. The gallery's website is user-friendly, straightforward, and well-designed, making it simple for visitors to browse the vast collection. Each piece of art is accompanied by thorough descriptions and high-resolution pictures, allowing for wise purchasing selections. In addition, Tag Fine Arts has a devoted team of art advisors on hand to help clients with any questions, tailored advice, or direction on creating collections of art. Every engagement is informed, interesting, and catered to each client's unique preferences thanks to their experience and passion for the arts. Additionally, Tag Fine Arts offers a smooth purchasing procedure with safe online transactions and alternatives for international shipping. The artwork is delivered to you in a professionally wrapped state to ensure its safe arrival at your door. The gallery is dedicated to establishing enduring connections with collectors and offering continuing assistance and advice, so their dedication to client satisfaction goes beyond the transaction.
Conclusion
Tag Fine Arts serves collectors, interior designers, and art fans as a top source for extraordinary works of art and limited edition prints. The gallery offers a captivating spectrum of artistic expressions across many styles and mediums thanks to its wide collection, which includes well-known artists and special collaborations. Tag Fine Arts stands apart due to its emphasis on quality, authenticity, and outstanding customer service. Collectors can have confidence in the authenticity and value of their purchases thanks to the gallery's dedication to working closely with artists, ensuring archival-quality materials, and offering professional art consultancy. Whether you're a connoisseur of modern art or an enthusiastic art collector, Tag Fine Arts offers a rewarding experience that honours the beauty and originality of the artistic community.