Quintessa Art Review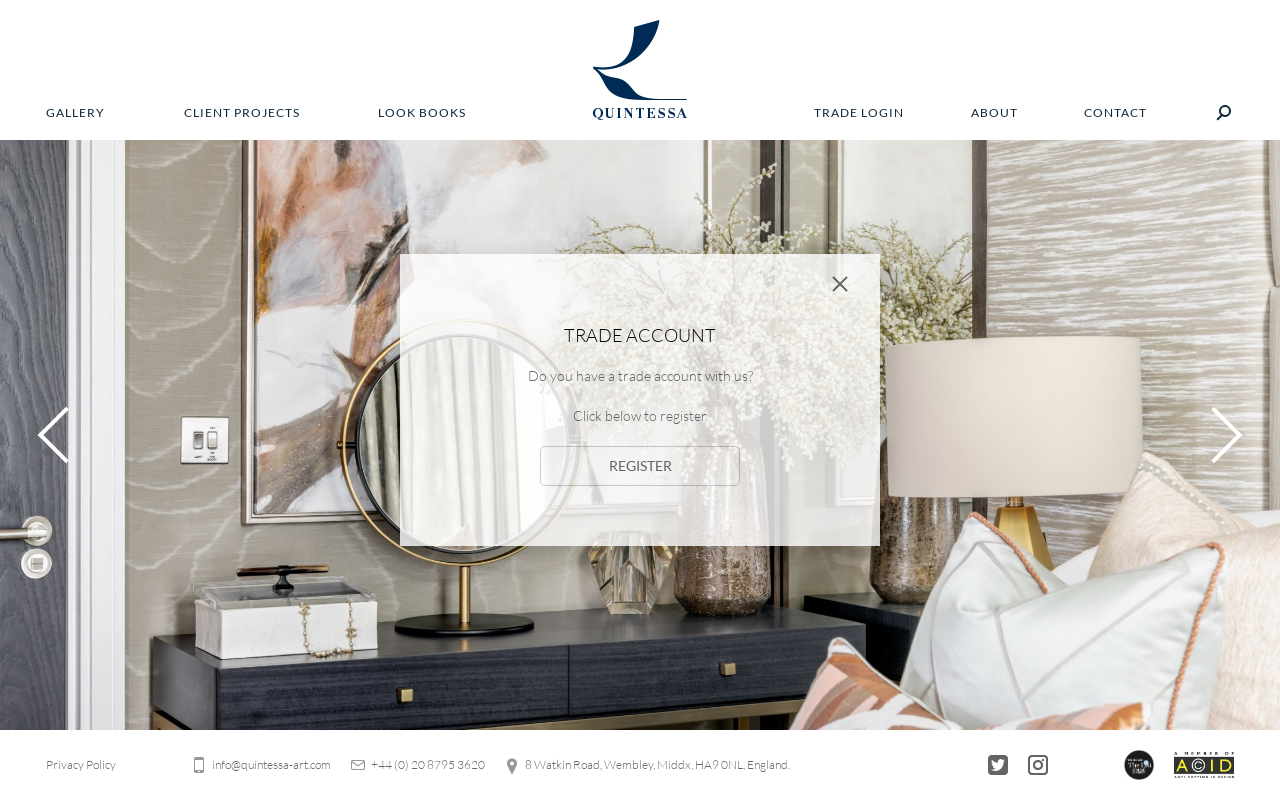 Captivating Collection of Contemporary Artwork
Quintessa Art is a leader in originality and inventiveness in the field of art. This well-known company has assembled an enthralling assortment of modern artwork that displays the creativity and ability of gifted artists from all around the world. Quintessa Art offers a wide selection of engaging works that make an impression, ranging from paintings to sculptures and everything in between. The persistent dedication of Quintessa Art to superior craftsmanship is one of its most noteworthy features. Each piece of art is painstakingly made with a strong eye for detail, producing works that radiate sophistication and skill. Every brushstroke, chisel mark, and moulded form demonstrates the brand's commitment to excellence. Quintessa Art's collection combines traditional and contemporary aesthetics in a seamless way. Quintessa Art offers a variety of works to suit every taste, whether you favour imaginatively stimulating abstract compositions or lifelike realistic depictions that reflect the essence of existence. The brand's artists are renowned for their ability to give their works life, stirring emotions and stimulating viewers' thoughts.
Quintessa Art places a strong emphasis on originality, which is one of its most appealing features. The company is always looking for artists who push the limits of their particular mediums by utilising novel techniques and unorthodox materials. A collection that is vivid, thought-provoking, and continuously changing is the consequence of this commitment to artistic discovery. The diversity of the art world is another cause that Quintessa Art supports. The company takes pleasure in showcasing artists from many ethnicities and backgrounds, giving underrepresented viewpoints a voice. This dedication to diversity is not only admirable but also enhances the collection by providing a wider viewpoint and celebrating the diversity of human experience. The Quintessa Art website is easy to navigate, with a user-friendly interface that makes it simple for art lovers to peruse the collection. High-resolution photographs on the website offer a close-up look at the texture and intricate details of each piece of art. The pieces are also accompanied by thorough descriptions that provide insight into the creative process and sources of inspiration.
Quintessa Art offers a variety of services to meet your needs, whether you are an expert art collector or a beginner looking to start a creative adventure. To aid you in finding the ideal piece of art to beautify your area and making educated decisions, the company offers personalised support and expert advice. From the first inquiry to the last delivery, their team of experienced specialists is committed to guaranteeing a seamless purchasing experience. Quintessa Art has high standards for customer service. In order to make sure that customers feel appreciated and supported throughout the process, the brand places a high importance on open communication and rapid response times. Additionally, every piece of artwork is packaged and shipped with the utmost care to ensure that it reaches safely and in perfect condition. In summary, Quintessa Art is a great company that provides a fascinating selection of modern art. They have developed a platform that highlights the greatest in the art world thanks to their dedication to exceptional craftsmanship, cutting-edge methods, and diverse representation. Quintessa Art is a place to check out whether you're wanting to add to your personal collection or buy a statement item. Explore their magical world and learn about the transformational power of art.