Garofoli Review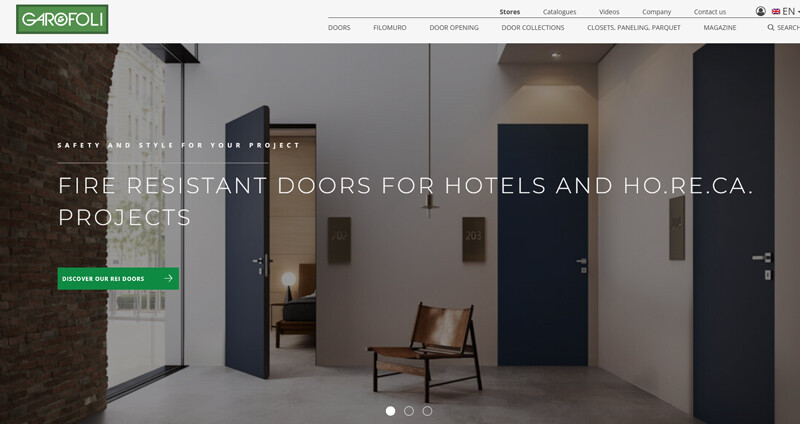 Introduction
An established leader in the world of doors and interiors, Garofoli is a well-known company. Garofoli, an iconic example of Italian workmanship with a tradition spanning more than 50 years, produces products of great quality and classic styles. In-depth analysis of Garofoli's products will be provided in this article, along with an examination of their website (https://www.garofoli.com/en/) and a discussion of the company's advantages and wide selection of products.
Product Selection and Quality
Garofoli offers a wide selection of interior solutions and doors, each showcasing the company's dedication to fine craftsmanship and attention to detail. Their door selection includes styles for every desire and taste, from traditional to modern. Garofoli offers a wide assortment that may go with any interior design, whether you prefer traditional wooden doors or contemporary glass and metal styles. The capacity of Garofoli to design customised doors that are specific to each customer's needs stands out as a distinguishing quality. You may choose from a variety of finishes, colours, and materials, assuring a great fit for your particular room. They also provide customisation possibilities. Garofoli stands out because of its commitment to personalization since they place a high value on creating solutions that are truly individualised for each customer.
Garofoli is excellent in designing and producing interior solutions other than doors, in addition to their impressive door selection. Customers may design a unified and consistent appearance throughout their living spaces with the help of their items from closets to wall panelling to flooring. Garofoli transforms homes into classy and welcoming settings by fusing beauty and utility with a great eye for design.
Innovation and craftsmanship
The unwavering dedication to craftsmanship that Garofoli has is what sets them apart from other manufacturers. The strictest production procedures are used to produce each item that carries the Garofoli trademark, guaranteeing the greatest levels of quality. In order to create doors and interiors that ooze elegance and sturdiness, the brand's trained artisans labour with precision and devotion, paying attention to even the smallest details. Garofoli embraces innovation while retaining the principles of conventional workmanship. They are always looking for new ways to mix cutting-edge technology and fashion into their designs, which produces goods that expertly combine classic elegance with cutting-edge utility. They combine cutting-edge materials, energy-saving technologies, and smart home integration to give clients cutting-edge options for their living environments. This dedication to innovation is clear in all of these practises.
Customer service and the online experience are also top priorities for Garofoli, as evidenced by its user-friendly website. With its slick and user-friendly design, the website makes it simple to explore the wide choice of products. Customers can easily grasp what to expect because each product is prominently displayed with thorough descriptions, top-notch photos, and specifications. Customers are given the tools they need to make wise decisions through the website's beneficial resources, which include inspiration galleries, design advice, and technical details. In addition, Garofoli provides virtual reality experiences and showroom visits so that buyers may see the things they are considering purchasing in actual environments before making a purchase. The online buying experience is improved and client satisfaction is increased by this interactive method. Garofoli is dedicated to providing outstanding customer service in all areas, not just online. When a consumer has questions or concerns, their staff of experienced and amiable professionals is ready to help. They also offer tailored advice throughout the purchasing process. Garofoli makes sure that every interaction is handled with professionalism and care by paying close attention to details and placing a strong emphasis on customer satisfaction.
Conclusionn
Garofoli emerges as a leading brand in the doors and interiors industries, enhancing rooms with their beautiful Italian craftsmanship and design know-how. Garofoli offers a wide variety of interior solutions and doors to suit different tastes and fashions, and their dedication to personalization assures a fully individualised experience. Garofoli's position as a market leader is cemented by the company's persistent commitment to quality craftsmanship, innovative strategy, user-friendly web platform, and first-rate customer service. Garofoli offers a vast array of choices to improve the aesthetics and functionality of your space, whether you're looking to renovate your house or start a business initiative.