Artificial Plants Unlimited Review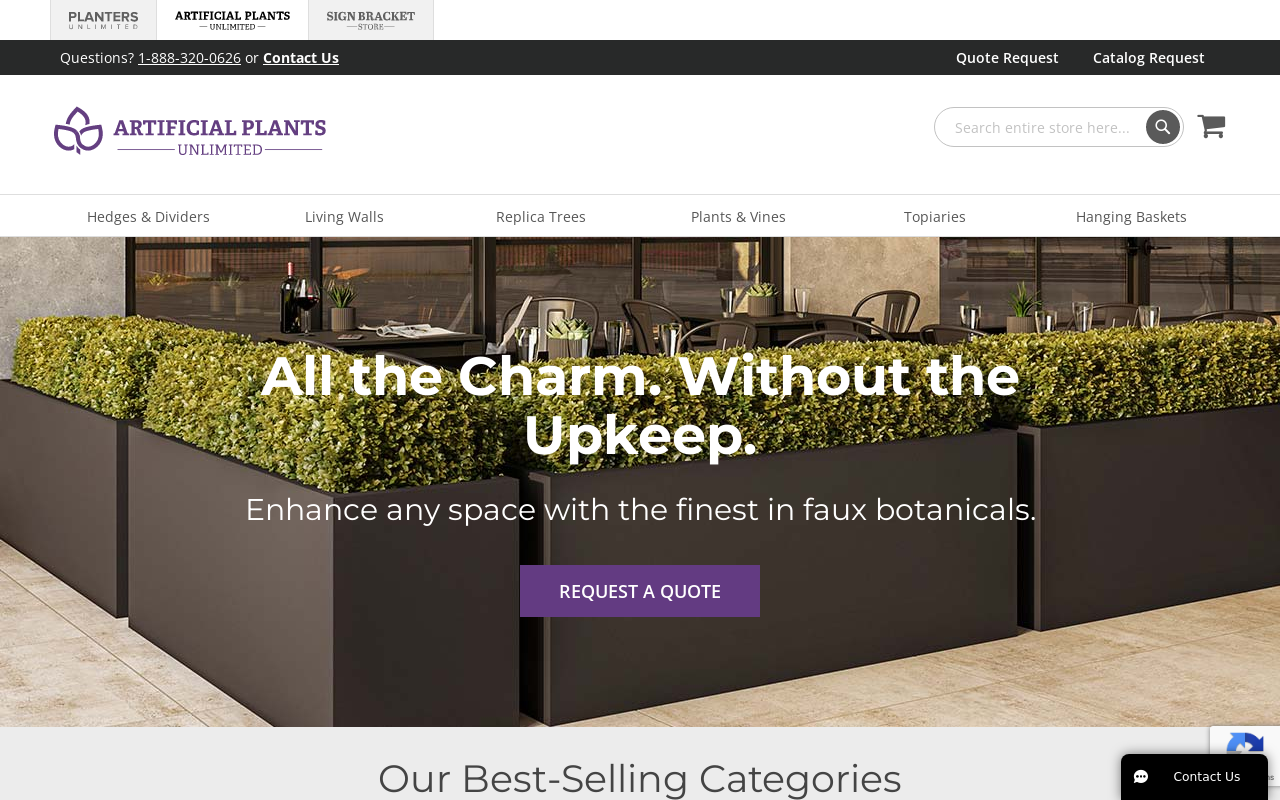 Introduction
Leading supplier of lifelike artificial plants and greenery, Artificial Plants Unlimited provides a wide selection of premium goods intended to improve the aesthetics of any setting. Artificial Plants Unlimited has earned a reputation for offering consumers top-notch artificial foliage alternatives for both indoor and outdoor settings thanks to their commitment to realism and attention to detail. We will examine the brand's products in-depth, go over its essential attributes, and talk about how Artificial Plants Unlimited may improve your interior and outdoor design.
Product Variety and Selection
To meet different design preferences and needs, Artificial Plants Unlimited offers a large selection of artificial plants, trees, flowers, and other greenery. This brand provides everything you need, whether you're searching for a colourful silk flower arrangement to liven up a space or a lifelike imitation tree to bring a touch of nature to your patio. Their product line includes artificial trees that closely resemble the delicate intricacies and textures of genuine trees, such as palm trees, bonsai trees, and topiaries. These fake trees are expertly made, giving them a realistic appearance that makes it difficult to tell them apart from real ones. They also sell artificial grass and foliage mats that may be used to build beautiful vertical gardens or improve already existing landscape designs.
Additionally, the company sells a choice of silk flowers and floral arrangements that add a splash of style and colour to any setting. Their flower creations are painstakingly made to accurately reflect the beauty of real blossoms, whether they are traditional roses and tulips or exotic orchids and lilies. Customers may simply discover the ideal floral accents for their homes or gatherings because there are alternatives for both individual stems and pre-arranged bouquets.
Realism and quality
The extraordinary quality and realism of Artificial Plants Unlimited's goods are one of their most distinctive qualities. The company makes artificial plants and greenery that closely resemble real plants using premium materials and cutting-edge manufacturing processes. Depending on the product, premium silk, polyester, or plastic materials are used to create the artificial greenery. To ensure longevity and a natural appearance, these materials have been carefully selected. The brand's dedication to accuracy can be seen in the rich textures and subtle colour changes that mimic the qualities of genuine plants. Additionally, Artificial Plants Unlimited gives significant consideration to how their products are built and finished. Their fake plants are made to last while preserving their natural appearance, with strong stems, branches, and delicate petals and leaves.
Flexibility and Personalization
Artificial Plants Unlimited is aware of the particular design needs that each area has. To address this, they provide consumers with customisation choices so they can design their fake vegetation to meet their unique requirements. To match their preferred style, customers can select from a variety of pot options, including as beautiful planters, urns, and baskets. For many of their goods, the company also offers a variety of sizes, so you can find the ideal fit for any location, whether it's a tiny tabletop arrangement or a big statement tree. In addition, Artificial Plants Unlimited offers suggestions and help with designing unique arrangements or patterns. Customers can choose the ideal blend of plants and greenery with the assistance of their team of skilled designers, which streamlines and enjoys the customisation process.
Applications and Robustness
Products from Artificial Plants Unlimited can be used in a variety of applications due to their adaptability. Their artificial plants and greenery may improve any location, whether it be for private interiors, commercial areas, outdoor landscapes, or event décor. Artificial plants have several benefits, one of which is their low maintenance requirements, and this is also true of the products provided by Artificial Plants Unlimited. Their goods are a great option for people with busy schedules or places where natural plants might not survive because they don't need watering, trimming, or sunlight. The company's products are also UV resistant, guaranteeing that they keep their brilliant colours and appealing appearance even when exposed to strong sunshine.
Conclusion
An extensive selection of realistic-looking artificial plants, trees, flowers, and greenery are available at Artificial Plants Unlimited, a reputable business. They provide consumers a wide range of items ideal for a variety of design preferences and applications thanks to their remarkable attention to detail, premium materials, and customizable choices. Artificial Plants Unlimited is the ideal solution for adding a touch of nature to your inside areas, designing a stunning outside landscape, or enhancing event decorations. Their products are a practical and long-lasting alternative for altering your home because they provide the beauty and freshness of real plants without the upkeep. Learn about the amazing quality and realism of Artificial Plants Unlimited's offerings, and use their realistic greenery to enhance your interior and outside design.
More sites similar to Artificial Plants Unlimited
Back to home