Orac Decor Review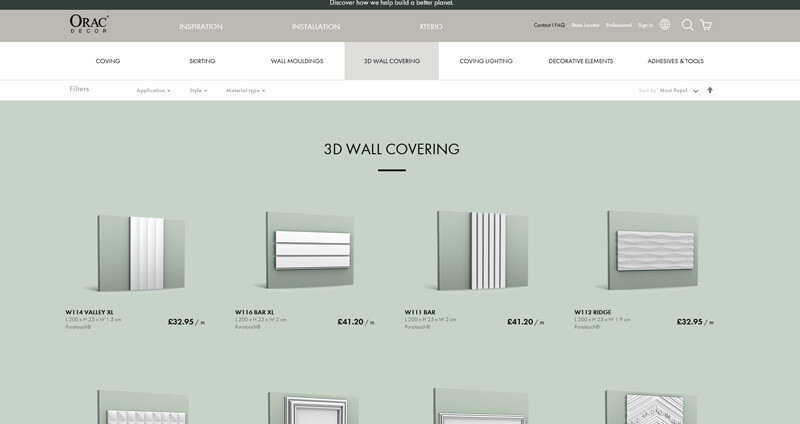 Introduction
Few things in the field of interior design have the ability to completely transform a space like a compelling wall covering. Known for its creativity and design prowess, ORAC Decor offers a breathtaking selection of 3D wall coverings that transform any room from ordinary to spectacular. ORAC Decor's products give a new angle on interior design with the ideal fusion of aesthetics, use, and simple installation. To fully grasp the spirit of ORAC Decor's 3D wall coverings, we examine the brand's offers, materials, design options, and installation procedure in this in-depth analysis.
Imagination and Variety
With an astonishing selection of designs, ORAC Decor's 3D wall coverings let you construct a space that exactly matches your aesthetic and goals. Their range appeals to a variety of tastes and inclinations, ranging from modern geometrical patterns to complex floral motifs. ORAC Decor has a design to suit every interior aesthetic, whether you're looking for a subtle touch or a big statement piece. Each design is painstakingly made, displaying minute details and textures that give your walls depth and perspective. The immersive 3D experience that the effect produces makes your walls into moving focal points. These coverings add an air of refinement and visual intrigue to any space, whether they are utilised as an accent wall or on the full wall of a room.
Resources and quality
Quality is the top priority for ORAC Decor in all aspects of their goods. Their 3D wall coverings are made with excellent components that guarantee lifetime and durability. These coverings, which are made of high-density polymer composites and resistant to moisture, impact, and wear, can be used in both residential and commercial settings. ORAC Decor uses eco-friendly, non-toxic materials that guarantee a secure and healthy living environment. The company's dedication to sustainability is evident in the materials they choose, making their products an ethical purchase for ethical customers.
Installation Technique
The simplicity of installation makes ORAC Decor's 3D wall coverings one of a kind. These coverings offer a hassle-free installation technique that needs no specialised tools or skills because they were created with the end user in mind. The lightweight panels have an already-applied adhesive backing that makes for an easy peel-and-stick installation. With the ability to easily change the location of the panels as needed, the simple installation mechanism guarantees a precise fit. This strategy is user-friendly, which not only saves time and effort but also enables people with little to no experience in home repair to produce results that seem professional.
Versatility and Application
The 3D wall coverings from ORAC Decor are extremely adaptable and have numerous uses. These coverings provide countless design options, whether you want to refresh your living room, design an exciting workstation, or add a little elegance to a hotel lobby. They offer a practical solution for both new construction and remodelling projects because they can be applied to a variety of surfaces, including plaster, plasterboard, wood and even pre-existing tiles.
Upkeep and Durability
In addition to being beautiful and simple to install, ORAC Decor's 3D wall coverings also need little upkeep. The use of top-notch materials ensures their resistance to fading, yellowing, and scratches, ensuring long-lasting beauty for years to come. Cleaning is simple; all that's needed to keep the coverings spotless is a soft wipe with a moist cloth.
Conclusion
The 3D wall coverings from ORAC Decor are proof of the company's dedication to quality, innovation, and client pleasure. These coverings provide a means to turn your area into a work of art thanks to their wide selection of designs, high-quality materials, and simple installation procedure. ORAC Decor's 3D wall coverings are an asset to any interior design project because of its adaptability, toughness, and attention to detail. With ORAC Decor, you may discover the power of dimensional walls and open up a world of opportunities for your residence or place of business.