Andrew Martin Review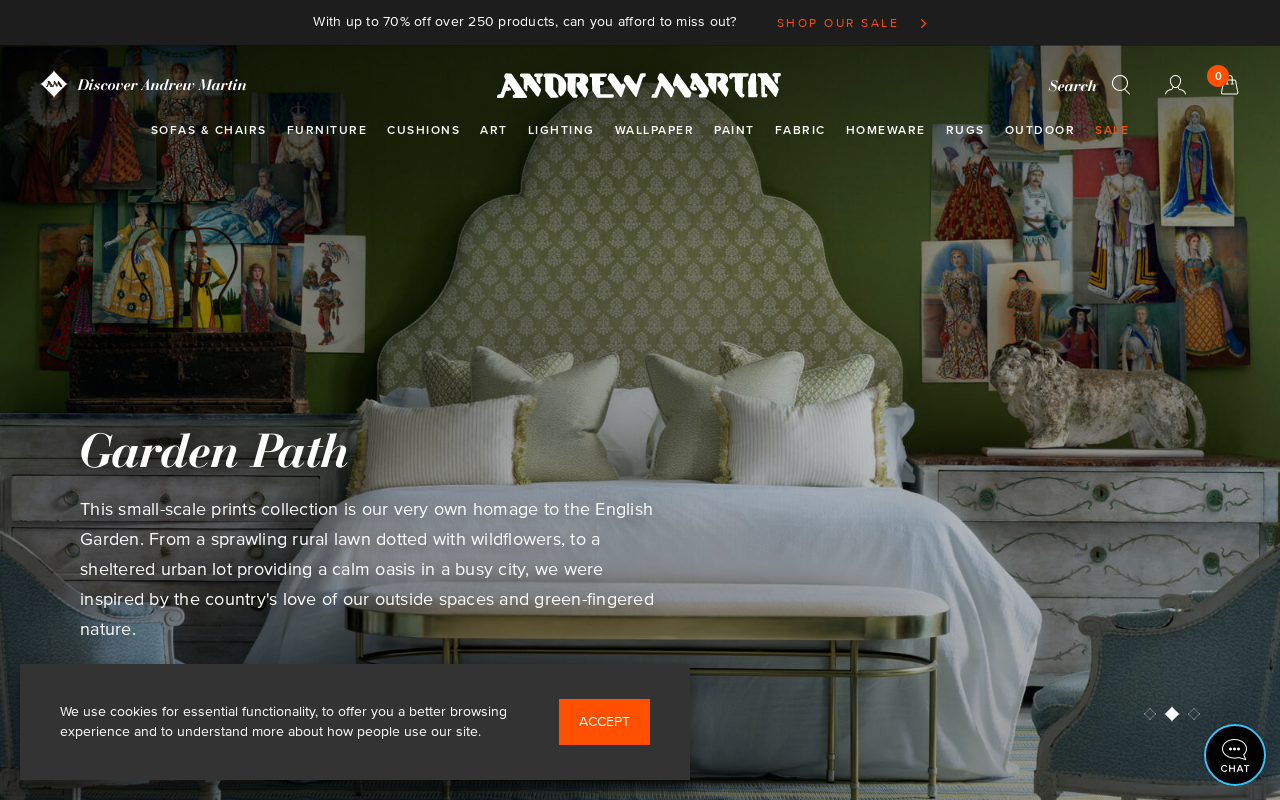 Introduction
Finding the ideal mix between classic elegance and modern flair when designing a fashionable and exciting living space may be challenging. Here comes Andrew Martin, a well-known company that has been establishing trends in the interior design industry ever since it was founded. Andrew Martin is known for innovation, fine craftsmanship, and excellent design and offers a wide variety of home furnishings and accessories.
User Experience on the Website
You are welcomed by a visually attractive interface when you enter the Andrew Martin website (https://www.andrewmartin.co.uk/), which represents the company's dedication to aesthetics. The website is thoughtfully designed, making it simple to navigate and explore their wide choice of products. Visitors are encouraged to fully immerse themselves in Andrew Martin's universe by the slick design and attractive font.
Furniture assortment
The furniture line by Andrew Martin is evidence of their skill in fusing classic and modern design features. The company offers a wide selection of furniture items that can accommodate different tastes and styles, ranging from traditional Chesterfield sofas to sleek contemporary dining tables. Each piece is painstakingly made with premium components and close attention to detail, assuring longevity and durability. The capacity of Andrew Martin's furniture collection to easily incorporate several design inspirations is one of its distinguishing qualities. The outcome is a really eclectic and alluring ensemble, with pieces that are inspired by numerous nations, eras, and aesthetic trends. Andrew Martin's furniture collection has something to suit every taste, whether you're searching for a statement piece to centre your living room or a stylish accent chair to match your bedroom.
Wallcoverings and Fabrics
The dedication of Andrew Martin to designing aesthetically pleasing living spaces goes beyond furnishings. You may completely change the look of your interiors using texture, colour, and pattern thanks to their wide selection of fabrics and wallcoverings. The fabric selection offers a wide range of materials to fit any upholstery or drapery needs, from luxurious velvets to delicate silks. Additionally, Andrew Martin's wallcoverings line offers a stunning variety of prints, murals, and textured wallpapers that quickly give any space new life. The brand's wallcoverings are made to stand out and improve your interior design concept, whether you favour strong geometric designs or detailed botanical motifs.
Equipment and Lighting
Without the finishing touches, no interior design is complete, and Andrew Martin excels in offering a variety of distinctive and eye-catching accessories. Their accessories line gives the ideal accents to improve your home, from magnificent decorative items to stunning lighting fixtures. The lighting series by Andrew Martin is a stunning example of how well form and function can coexist. Each piece, from sophisticated chandeliers to cutting-edge table lamps, is carefully created to set the ideal mood and bring a touch of class to any space. On the other hand, the company's accessories line includes a unique assortment of sculptures, vases, and ornamental objects that may easily upgrade your decor.
Partnerships and Inspirations
The cooperation of Andrew Martin with well-known designers and artists from all around the world is one of their defining characteristics. These partnerships give the brand's collections new viewpoints and creative concepts. By collaborating with innovative thinkers, Andrew Martin continuously pushes the limits of design and provides clients with really one-of-a-kind and spectacular products. Additionally, the brand finds inspiration in many cultures, travel, and historical periods, which results in collections that showcase a variety of inspirations. Andrew Martin captures the essence of international design trends, making their offerings relevant and enticing to a broad audience. These trends range from the brilliant colours of Morocco to the traditional elegance of British heritage.
Conclusion
More than merely a furniture company, Andrew Martin serves as a starting point for the design of innovative living spaces that combine traditional beauty with modern flair. Interior design lovers have a wide range of options thanks to the brand's large selection of furniture, fabrics, accessories, and lighting. Each item from Andrew Martin is a unique work of art thanks to the brand's dedication to fine craftsmanship, attention to detail, and partnerships with well-known designers. In order to create your living spaces into aesthetically pleasing, useful, and personalised havens, Andrew Martin offers the tools and ideas you need, whether you're looking for a single statement piece or a whole interior makeover.